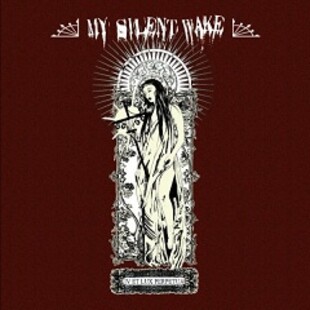 Here is another blast from the not so distant past Silent Wake's 2010 offering is named Iv et lux Perpetua in other words, 'Requiem'.
This is an album guaranteed gloom you straight to gothic metal and by Gothic metal I mean, chuggy, discordant guitars smashing against the bass riff and simultaneously destroying brain cells with fierce vocals.
The album's title track glooms along nicely into Death Becomes Us a relatively relaxed track which blends stoner doom with various 'Gothic Metal' key changes. The repetition on the lead guitar seems to drag on a touch longer than most would care to entertain.
Bleak Endless Winter is what we're greeted with next as the riff begins, the listener may feel the need to let out a warm satisfying yawn due the 'metal' riff that your grandma knows. Unfortunately, the riffs don't get much more exciting in this track; the breaks will tire you out even the mellow part towards the end. I've never dug winter for more than a week in my life, this track and name seems to fit.
Father fades in with lightly played organ notes before the 'Epic' guitar chords fill up the intro, the main attraction here is the vocals, well constructed lyrics with solid lead guitar playing over said lyrics.
Blues-Metal, if the genre exists which I'm sure it does, kicks off the next instalment, Graven Years starts with an interesting take on the little-known genre. I guess Pantera probably started it, is that too much of a boring conversation to have? This track brings in standard metal stuff in for the listener to judge.
My Silent Wake is the next TRACK up, I know, they called a song after themselves, it seemed to pull the album's tone away from being too gothic to attempting to go for neo-Goth-gloom-metal into a more prog-neo-Goth-gloom-metal... serious stuff that strangely, kind of works.
If a band uses a word too much, it can be all people think about when they hear this next track, this is My Silent Wake performing Between Wake and Sleep clocking up an impressive three 'Wake' uses, the track opens with a little surf-influenced blues riff with metal tendencies. Interesting guitar riff opening but slips back into a familiar pattern.
Closing this album with Journey's End is best placed at the end of the album, I thought calling it Journey's Wake would have been better but there you go. Highly samey rock riffs and a chorus that sounds like stuff you've heard many times before.