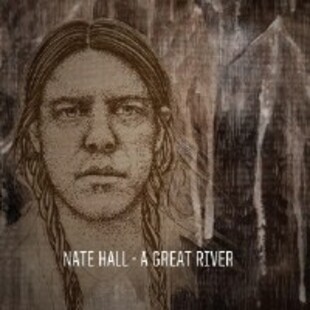 The lead orchestrator from the excellent US Christmas, Nate Hall has broken away to release a solo effort.
In his day job in USX (as they are known), Hall sings and plays guitar in a much more primal way. The sound of USX is elongated and spaced out compared to what he has put to recording here. Over around 35 minutes, he tones down the volume, but not the vast, rural sound that USX harbour.
Hall's voice is often the first thing people notice about USX and given the space it has here, it is even more affecting. Slightly rasped, slightly off-key, but with plenty of character and feeling it feels redundant describing it, it is better to hear it. It has an esoteric, floating quality that sounds detached like he is singing to himself among the pines. The guitars are a mix of acoustic strummings and just-loud-enough electric elements played together. Combined with Hall's effects-laden voice rolling over the top, it is a wonderful, swirling and laid back album. It still has that sense of sadness floating just visible beneath the surface. It is almost as if you aren't meant to mention it, the elephant in the room is that Hall's music is often emotional and affecting, but is hidden by apparent stoicness. On Townes Van Zandt cover Kathleen[/] he laments [i]'Maybe I'll go insane' and 'Soon I won't see you my sweet Kathleen' and it brings a lump to the throat.
Hall is not immune to eastern influence either, sounding like an offshoot from a forgotten Grails album, Night Theme sounds equal parts Hall's native Appalachian mountains and eastern European folk music. Where USX have this bubbling under the surface, this solo effort brings it to the fore.
If you're a fan of USX, and if not, check out Run Thick In The Night, this is a great record to own to add to the canon Hall has set out already. For those more familiar with weird folk or unusual, quieter efforts (perhaps fans of Sir Richard Bishop) should give it a listen. It's a highly affecting and interesting record, probably best for lone drives into blank coutnryside to really get the feel of it entirely.