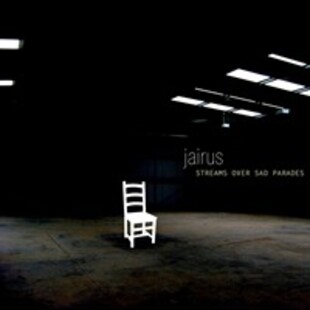 Jairus are a frustratingly aloof band. I usually like to include a little background info when I review releases but I can find next to nothing about them online other than they're from the UK, there's 6 of them and 2 of them like wearing caps. Hope that helps.
I came across them due to a misunderstanding; someone related to the band thanked me via Facebook for a review of their Build My Gallows High EP which I hadn't actually written. I apologised for the mix-up that wasn't my fault in a very British way and as it was a free download, decided to give it a listen anyway. Pleasantly lo-fi, it was a sometimes abrasive burst of modern hardcore with a strong sense of melody, and while it's 4 tracks were too brief to get properly excited about, it was promising enough that I kept my eye on them.
The recently released Streams Over Sad Parades is even shorter, although musically stronger than it's predecessor. Again 4 tracks long, EP closer The Ileon is almost entirely electronic samples and keyboards over it's 2 minute span meaning there's only 3 tracks to really get your teeth into. The music is mostly distorted guitars and busy drums with frequent section changes reminiscent of now defunct Flatlands gig buddies Archives. The vocals are varied, frequently screamed but equally as often cleanly sung with actual melody lines. The major key arpeggiated guitars, clean vocals and occasional beatdown-esque section sounded a little too close to the commercial hardcore sound on their previous EP, but those elements are toned down here and the sound works extremely well, effectively showcasing the bands energy and songwriting adroitness. Chupacabra is a definite highlight of the band so far and a good indicator of whether or not they're for you.
Streams... is again teasingly short but along with their previous EP, definately worth seeking out for fans of And You Will Know Us By the Trail of Dead and contemporary UK hardcore. Give Chupacabra a listen on their Bandcamp page here.