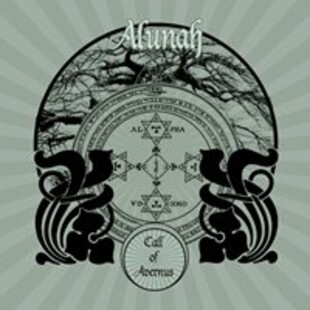 Coming from Birmingham and being a heavy band means you're instantly stereo-typed or you have some enormous shoes to fill, Alunah have taken the challenge and have been receiving positive vibes for their own brand of psychedelic, avant-garde, doom-ridden, retro-heavy metal.
Call of Avernus is a release from 2010 on Catacomb records; it thunders in with Living in an Ancient Land this track begins with balls, loud bass-balls. The track lumbers along before majestically switching into a swinging beat which punches hard into the listener's brain.
The album's title track comes up next and features a pretty dull riff that could be included in any heavy bands arsenal, if you're a heavy guitar player you are probably familiar with drop tunings played at the 12th fret and alternating between the 3rd and 5th. Vocals are this tracks saving grace, not quite as strong as Blood Ceremony yet a great addition to the overall music.
Song of the Sun comes in next to demolish your ears but unfortunately brings in an identical riff to what was offered previously. The groove is apparent in the chorus but the placement of this track on the record is what makes this and the last track sound identical.
A haunting bass line drifts in to commence the next track, Magick Lantyrn. This is the trippy one that many bands all add in to albums, 'the slow one' the addition of female vocals throughout this release are what save's them. The musicianship on this record is of a very high standard and that is apparent.
With a thumping riff reminiscent of Clutch's Elephant Riders, Eternal Sea blazes in next with the vocals seeming to take a more relaxed approach which to listeners that have got this far into the record will instantly assume is just plain lazy.
Speeding up from the Doom-Fest that has been exploding in the speakers, Dance of Dionysus marches in with one mother-fucker of a riff, this is the type of riff you could expect Fu Manchu left out when recording The Action is Go. Vocals are still, Lazy here but god, do they work well.
Back in the land of doom the next track is named Circle of Stone which features a mellowed intro which is clearly a nod to 'planet caravan' with rim-shots and plenty of 'Cathedral-style' reverb, the track unfortunately U-turns into the same drum beat as the last track and is seemingly a trait of the group as well as wah-wah-drenched guitar solos, it can be turned off, there's a little button at the front, just put all your weight on the front of the pedal...
As the next track crushes my eardrums with majestic dirt, I prepare myself more that same riff and tempo to carry on, they U-turn again into a generic stoner-rock beat and riff on a track named 'higher'.
I'm a firm believer that these days, playing Stoner-Rock or 'Stoner-Doom' needs to offer something different as opposed to the same old lyrics about getting 'higher' and playing a standard drop-tuned riff. Saying that, the guitar and bass on this release sound devastatingly heavy which does help.
The lengthy title of the closing track, Hermetic Order of the Golden Dawn suits the humble riff that kicks off the proceedings here and continues to come back through the track itself. As a closing track, with sludge-riffs with monstrous bass that breaks down into a clean, cowbell-ridden beat. As you all know, there was one thing this album needed in my opinion, more cowbell.
If you haven't checked Alunah out yet, you definitely should as they hold a torch to everything heavy from Birmingham. This release is a winner in the book of English Doom and is a great mix of Desert-Stoner and Doom to roll up and burn.