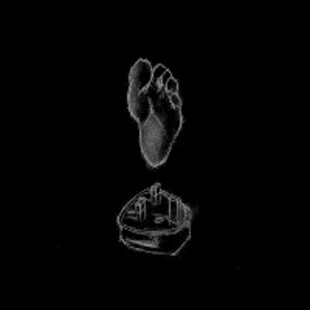 The Face of Christ has been seen many times over since the dawn of time, on pieces of toast, in vegetables, as a shadow or trick of light but, is rarely heard.
Face of Christ are a long-serving musical group that have stomped around Chester for over a decade, this latest release through Condate Records is a six-part, brain-battering assault for 2012.
With such previous releases as Year of the Prick and The Human Animal FOC have managed to create a steady back catalogue as well as some devastating live shows.
Having witnessed them play basement shows with hymn sheets complete with Josef Fritzl's face on the front to playing backyard-festivals such as Downlewd in 2009, FOC are still hammering away at the rusty nails that stick out of the Chester city, music scene's coffin.
This latest release begins with an uncharacteristic quiet build up, that gets better and better as it becomes clear when the volume is reached and minor key changes and severe battery of a Les Paul Custom. This part climaxes with a frantic and frenzied ending, its name? A man jumps from a building in slow-motion –the end of everything and what could be more frantic and frenzied than that?
Vocals are the strong-point to all of FOC's stuff as fans are all keen to join in with such tracks as Fuck, Kill, Eat[i] or [i]Patrick Bateman these three minute punk-marvels are left in the back catalogue and the structures are left out on the new release but the vocals are as strong as always on here.
Forced Love follows next with an incredibly destructive looped guitar riff played at break-neck speed with accuracy. The vocals are strewn all over the main riff like a scene at Sharon Tate's place on August 9th, 1969. The vocal mix on here reminds the listener of early Minor Threat with a dash of Hot Water Music.
As Forced Love finishes it blends into Solemn Vow – The Beginning of the End this brief interlude follows in from screeching feedback and into a juggernaut of a riff that adds discordant texture to the bridge. Remember though, one hand always washes the other, unless you're Abu Hamza.
Norwegian black metal influence creeps in on the name alone in Your Church Burns Tonight – The Duality of Self the instant thrash of the first part of this track blends into bass line that drags like a fat man in a pub car-park fighting. The incessant feedback covers this making it even more unpleasant to the listener, targets locked, target achieved.
Hardcore Punk is always a tricky thing to get right yet with so many years of experience and even more experience of Toby Carvery's, the band seem to do this with ease and have adopted the 'if you're walking on thin ice, you might as well dance' approach to their field.
Forever With The Black Heart – The Lament fades in to close the release, the clipping off feedback looped over and over is a unique entrance for the sonic tidal wave of brutal yet, dramatic vocal to smash in and even includes the haunting trademark of a Hammond organ as the track ends in what could only be described as one of Salvador Dali's nightmares.
The musicians involved in this release are all seasoned after years in the saddle and this current line-up prove everything there is to prove, especially for a band that have done so much.
As the record is laid out in acts it's difficult to tell which part is which as Chester's only punk band have run with a kind of 'concept album-no gaps' feel to this, but as many Hardcore fans know, if it sounds brutal and seriously fucking angry then you shouldn't really care if they performed it on an ice-rink with acoustic guitars.
Due for official release on ITunes on July 23rd, black flag-worshippers will not be disappointed with this offering from the church that houses the Face of Christ.