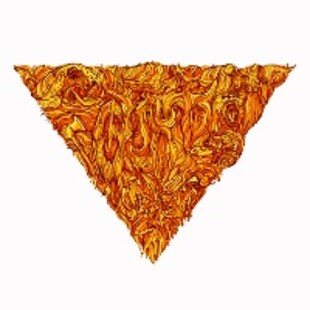 Gurt's 2011 EP offering entitled Redwin is exactly what is needed on a Sunday morning. The packaging of this is quite special, nice matte-finished digipack with minimal, yet interesting artwork that looks like a DSOTM prism made of beards, wolves, weed and mushrooms. Inside the EP, you can see the band hidden in a bush under the CD, nice.
Tinkling in with the well-known, banjo-played- theme tune to a film about hillbillies that have a penchant for bum-rape, the EP then smashes mortal eardrums to with the fusing of a monstrously heavy riff that drags itself through Sabbath, Down, COC and some essence of Electric Wizard in parts.
The next part of the EP swings in like a sonic wrecking ball on a track named Shell; this has enough of a riff to give you a healthy dose of whiplash. The riff swings back in with the vocals sounding like a hellhound that has just had its bollocks pulled.
A Led Zeppelin cover is a touchy subject for many bands, can they do Page and Plant justice? Not to mention Bonham's battering of a drum kit? Gurt have, they have done Rock and Roll their own way, and reminiscent of Coalesce's There Is Nothing Left Under The Sun' they made it their own.
Fuck Nose is another belter, swinging with more groove than James Brown's corpse lying in a bowling alley gutter. The blending of Thin Lizzy style guitars work so well as an intro, I had to rewind it. The main riff blasts in with interesting breaks and a fuzzy bass holding the tempo-fort as the hellhound continues to wail, the Lizzy part returns and brings the track to a feedback-ridden end.
Closing the EP and my weekend, is a track aptly named Weekend, if your weekend sounded anything like this then you'll be devastated to see the end of it. Down-style guitars infiltrate the listener's ears this time round coupled with tom-rolling, riff-matching drum patterns.
Punk influence hammers in at the last second of the EP, cleverly broken up by a swinging stoner beat and listed simply as *. The track also features slide guitar, seldom used unless you're listening to Orange Goblin.
For those of you who frequently walk round with a picture of Jesus Christ smoking a cigarette on your tee-shirt, or those of you who need southern-rock and 70's blues rock in their lives at all times. Be sure to buy this and pretty much everything Gurt have ever done, catch them live too, you won't be disappointed.