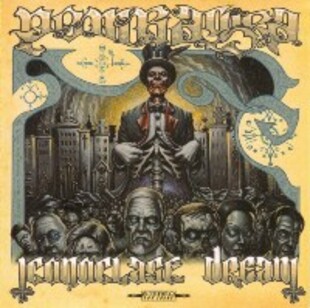 Another record from the inherited ninehertz 'to do' pile, but one that really deserves a spin and conflab about.
Iconoclast Dream is a fantastic effort from doom-esque duo Pombagira. A London-based setup that will be familiar to many, but for those who aren't, this is Pete, he of the terrifying guitar-toned Flyblown and other bands and his wife Carolyn. Together they create a bleak, misanthropic tone that sweeps almost Electric Wizard under the carpet in terms of guitar sound. Famous for levelling venues with volume, Pete's method is not to mask any inability as other's might, rather to put across his point. Life is a struggle and Pombagira are here to tell you that through their smoke-filled, downward-facing gloom.
Iconoclast Dream appears to be one, long trip into the ether, with nothing to stop you from being dragged into the sound until it is over. The riffs move glacially from one movement to another with a very even tone throughout and the drums reflect the slog uphill they obviously want to put over. Pete's vocals are not too far from Max Cavalera weirdly, not of the rap-metal of the late 90s/early 00s, but early Sepultura. That raspy, yet angered groan that makes everything intoned sound all too real and true.
A section halfway through however shows the subtlety at which Pombagira can operate, whinnying delay and squalls of feedback are unleashed to wander where they will, while the drums crash gently in an almost reactionary fashion. This experimentation reveals another side to the band, write them off as slow doom addicts at your peril, this album is one of invention.
Put this on for the hour or so it lasts and you'll be pleased you did, this has actually given me new reasons to seek them out live again too.