As I sat in 25 degree heat, on the M60 listening to Sleep's Holy Mountain on my stereo, I couldn't help but think about how often you hear of Sleep actually playing live and whether or not this gig would worth the trip and traffic.
Many readers of these articles are big fans of the said band, Sleep. Perhaps a combination of being pot heads that spent too long staring at computer screens and researching fat riffs and obscure bands, or old timers that were following California's finest stoner rock band before most of us could even piss straight.
When I pulled up I witnessed the sight of the infamous Leeds University which; is a cool venue to play or visit as it was once home to one of the greatest live albums by The Who. I was reminded of this fact by the Blue Plaque stuck to the wall.
I had hoped to get an interview for you all but after spotting Al Cisneros and asking him if he had two minutes, he shuffled away, mumbling into his own hair. I then bumped into Matt Pike who seemed relatively pleased to chat until I mentioned the interview and he informed me that he had gotten into a fight with the last interviewer and turned down all interviews this time round.
As not to incur the wrath of a stoner rock god I decided to blow money on the merchandise table, tee shirt designs that feature designs that are as good as the band have to be bought as well as posters printed onto thick, heavy grade paper.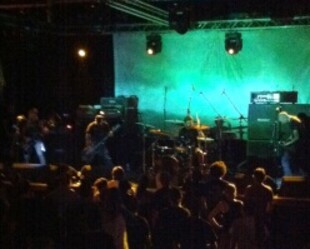 When the lights dimmed and the support band, A Storm of Light came on, the volume was increased and the riffs began, they are a five piece from Brooklyn New York and they can bash out their own brand of Post-Doom. What can be heard when witnessing this band live is, two guitarists both alternating lead and rhythm parts along with post-rock interludes.
Excellent stuff being exploded into the audience, if you had no ears you could imagine you were watching a Doom version of the Smashing Pumpkins. As many of you may possess ears, you'll just experience music which would aptly suit the name, A Storm of Light.
As the band thundered through their last note, a screen behind the stage lit up with a seventies space exploration video explaining the solar system whilst an astute-looking chap wandered about through old Star Trek, desert sets.
Throughout all the commotion on stage, a very special Les Paul was placed next to two Blackstar stacks, a Rickenbacker bass left next to some Ampeg rigs. It is always a nice thing to see the same guitars that created the original records, play the original records live.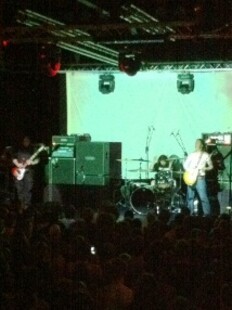 Whilst my next Red Stripe neared its death, a sound that could wipe out entire countries filled the room, the sound of a First Act 9-string guitar tuned to drop C roared from seemingly out of now-where until the audience noticed a super-strong strobe light bellowing out of the middle of the room and out of the top of a booth came Matt Pike shredding like fuck.
This was one hell of an entrance, it did however turn a little bit 'Spinal Tap' as the lift then began to go back down and then come back up again, after four goes on his lift, Pike left his guitar in the booth with feedback screaming and made his way to the stage.
Dopesmoker began the crowd went bat shit crazy. As you all know, it is one badass record, it is even more badass when played at skull melting volume in front of you.
Funny to think that not one of us can remember how the whole thing fits together on the record, I had hoped to see someone studying a recently issued 'Riff Chart', yet there were three phenomenal musicians that can play it live for us. Just goes to show that we should all worship Sleep.
As they blasted through all parts and made them sound as good, if not better than the record given the history, setting and musicianship. I noticed that Al Cisneros' voice no longer possesses the power of the original but, that's the only downside, seeing Sleep play Dopesmoker has pretty much made 2012 one of the best years of my life.
The screen behind the band shot pictures of Marijuana leaves throughout the set which kept people mesmerised with each solo and part that blended into the next. Following true to the latest issue of the album, the ended by playing Dragonaut from Holy Mountain, let's face it that is just the cherry on the top of the sludge, doom, stoner, riff-filled cake.
If you haven't seen Sleep live then you must continue trying to go and see them as you will not regret it. It was Sleep, Dopesmoker like you haven't heard it before...Deja Vu?