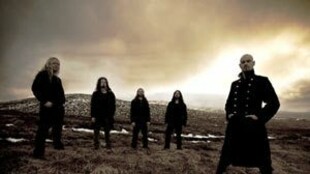 Hidden away in a shopping centre, Islington's O2 Academy is an odd place for a gig – but it's always provided great ones. Tonight was no exception.
Beer seemed preferable to the first support act, Winterfylleth. Their music could best be described as epic, black metal harshness – but not my thing really.
The next band, though, are intriguing.
Hell originally formed in the 1980s but never made an album. They split up and their vocalist and guitarist Dave Halliday tragically committed suicide afterwards. However they were hugely influential to some. One person inspired was Andy Sneap of Sabbat and record producing fame. A few years ago, he re-activated the band with himself on guitar and the brother of one of the original members on vocals.
Having never seen or heard the original band I can only go on what's presented on stage tonight, but it's very entertaining.
Clearly Sabbat took a lot from Hell; the rapid bouncy thrash guitars and shrieking vocals are near identical. Hell, in turn, seem to have been obviously influenced by King Diamond/Mercyful Fate. However the songs do have their own identity. If you like your NWOBHM/80s metal then this is certainly the real deal.
The new vocalist's stage presence is theatrical to the point of parody, but he pulls it off, although his microphone headset makes it look like he's working in a call centre. It's good fun, but ultimately I think Sabbat went one better than their influences and made the more compelling music.
After twenty years of playing, Ireland's Primordial have become a band whose music reaches out to you like few others can.
They begin relatively slowly with a newer song; but then they play Autumn's Ablaze and it's mighty. Vocalist Alan Averill - aka Nemtheanga - has a mesmeric stage presence and appearance. He seems like a ghoul rising from the earth, an unremitting intense stare and a vocal that is harsh and rabid or impassioned and pleading. There is something genuinely unsettling about him; it feels all too real.
In Ireland, some say, history is alive in a way it perhaps isn't in most places. Previous events and generations cast shadows. It makes some sense of the sheer emotional power Primordial's music has. The guitars flow and wail, the chords echoing the lyrical emotions, roaring to crescendos. The lyrics go straight to the gut. "You may look away, but your children will not…" intones Nemtheanga at the end of As Rome Burns. The only minor issue is the set list; slightly too much new stuff, and a couple of old classics aren't included.
One song, though, stands out. The Coffin Ships.
This is a howl from the past, written about Ireland's darkest hour, the famine of the 1840s which saw a million people either starve to death or leave for America on transports - 'coffin ships' - upon which many died on the way. The survivors found themselves cast onto foreign shores, wrenched away from the land of their birth, with nothing left.
Anger, grief and desolation flow through the song. It starts quietly, with a repeating guitar motif, then builds, the drums beating a pattern. The main riff arrives, crashing like the sea on the shores of a land that has lost its people, lost its lifeblood. When the vocals come, they are a lament, the anguish of watching your children starve, powerless to prevent it. Nemtheanga, buried in the song, is almost sobbing. This is history rising from the grave and grabbing you by the throat.
Afterwards, set closer Empire Falls demonstrates, with its lyric of not letting the struggles of one's ancestors be in vain, how such past events shape the present. It is an anthem to get behind, but no less emotionally powerful than the previous song for being that.
Overall, as a shot of pure musical and emotional honesty, Primordial are at a level few bands can equal.