A band born on the internet, isn't it about time the ultimate nerds (that's us) caught up with Groan? One of the most fun, laid-back stoner rock bands we've ever had the pleasure of hearing. I caught up with Leigh to find out what makes Groan tick.
9hz: What does Groan look (and sound like) in 2012? I understand you've had some line-up changes since the first album?
Leigh: We've had a bit of re-shuffling since last year. Steve and Mazzereth left. So we got Chris of Trippy Wicked and Stubb fame to drum for us. After me and Dan had a jam with Chris without vocals, we were lucky that Mazz asked to re-join. Mazz's voice is one of the most distinctive things about our sound, so it was a relief to get him back.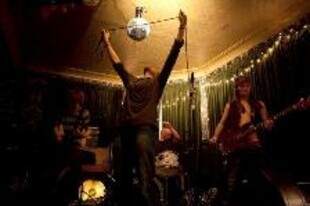 9hz: What are your influences? Do you set out to sound a certain way?
Leigh: I think we wear our influences on our sleeve pretty well. They're even more obvious on our new album. When I think of our influences, and I can't speak for the rest of the band, I feel it's less about a sound and more about that vibe that bands in the early 70s had that just made people shake their asses. I think it was Mazz who recently described our riffs as "Sabbath meets Quo". I'm not sure if we set out to sound a certain way, but I definitely think that in the last year we've "found our voice" when it comes to writing.
9hz: With big festivals being cancelled left, right and centre (Sonisphere being a recent casualty) do you think this opens the doors for bands like you to garner more audiences?
Leigh: I'm not sure if Sonisphere being cancelled affects us unless our fan base is made up of people wearing Jagermeister bandanas and Machine Head shirts! I think in the Venn diagram of heavy metal, there is that crossover between "the underground", and I'm loathe to use that term, and festivals like Sonisphere. However that crossover is really fine, I think the people who'll discover us or come and see us play will do so regardless of what's happening in the world of Sonispheres and Downloads.
9hz: What bands have you enjoyed recently? Do you have any reccomendations for 9hz readers?
Leigh: I spend a lot of my time listening to the worst, most uncool stuff. The only thing I'm willing to admit to listening to this week is a lot of Robert Goulet. Having said that, a lot of the last month of my life I've been listening to Fellwoods. They just have this sound that makes me want to play in a band like them. If you love classic rock, you can't go wrong with them.
9hz: Lyrics to the first album were rooted in fantasy and stoner rock imagery (wizards, prophecies, weed, space and mythology) is this a continuing theme for your next planned release?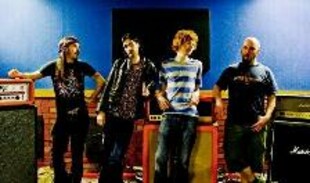 Leigh: You better believe it! Mazz and I really love history, and he particularly does. There are a couple of songs about Charles I and Henry VIII's dissolution of the Church. If you listen to any of the other music Mazz has made, you'll soon realise the only other thing he writes about is saucy women.
9hz: How often do you guys get together to practice? Is the songwriting method any different to the original line-up?
Leigh: It's really difficult to get together seeing that Chris lives in St Albans, Mazz in Bath, Dan in Stafford and myself in Manchester. When we do get together it's usually to rehearse for a gig the following week. We jam all day and booze all night and repeat it the next day. It's tough being in a band sometimes. As for songwriting, Dan writes the music and makes demos that get uploaded to dropbox, then Mazz adds the lyrics. There's one exception on the new album though where I wrote a song and God wrote the lyrics.
9hz: How many drinks would you say is acceptable to drink before you go on stage?

Leigh: That depends on the person. It's always important to remember that you're not a punter at a gig to get leathered though, you're at the gig for a different reason. Jesus, I sound like the band's fucking dad saying that. Drink, or don't drink, whatever.
9hz: What's the funniest thing you've had happen at one of your gigs?
Leigh: Mazz likes to tell the story of Dan being caught by a bouncer in a compromising position with a young lady right before we were due on stage. He pulled his jeans up and ran to the stage, but he hadn't pulled them all the way up, so he ended up tripping over and falling onto the stage and crushing his hand. He had to play the gig with just two fingers.
9hz: Good mates in crap bands, do you go and see them?
Leigh: Of course. I've even driven two hours alone each way to see Hospital of Death play in front of 5 people!
9hz: Has the digital music revolution been a good thing?
Leigh: On the whole, I'd say yes. I'd be an idiot not to really - we were first signed because of some demos we had on MySpace. I think that "the industry" has a lot of catching up to do on figuring out how to make money from this change, but the availability of so much diverse music at everybody's fingertips can only ever be seen as a good thing for bands and fans alike. Eventually the dust will settle and nobody will be losing money because of it, but, on the whole, good.