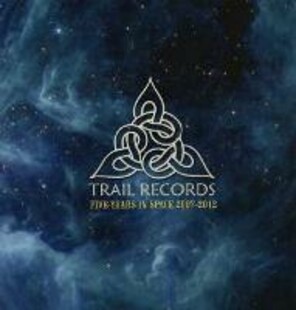 Trail Records are an American label with an international feel. This is a collection of what makes them so unique.
Five years is an impressive length of time to be in operation, especially if you are putting out esoteric and unusual bands from around the world.
Trail favour the mystical and psychadelic end of things, but it seems the more blissed out, lazy side too. No bad thing. But what you'll find on this compilation is slow, mesmeric and trippy, rather than wigging out and full-on craziness. It almost reminds me of world music at times, there's so many eastern influences on here, fingerbells, unusual horns and foreign scales ringing out.
Highlights include the Hangnail-like Beyondomatic, with their excellently doped up Starbong and what appears to be the only man outside the UK who sounds like Jarvis Cocker on downers, who fronts the unusual Eastern Syndrome.
Indian sounds are present on ole Lukkoye's track Sleepy Herbs which shifts like a migraine from temple to temple, going full on melted world at points and standing out a mile.
The whole collection is tinged with this land of promise-esque otherness, if you like a chillout session now and again, this would be the perfect soundtrack. When it does gather pace, it's spiritually rather than in speed. I'll be reviewing more artists from this stable soon, keep an eye out. in the meantime, check out the website, here.