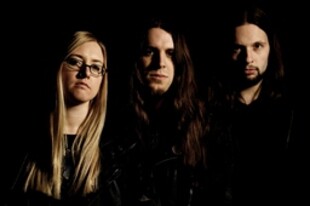 We thought it was high time we gave long-running 9hz faves and regulars Witchsorrow a grilling.
Catching up with Nick Ruskell, or as he likes to be known Necroskull, we asked him about the band's recent opus God Curse Us and life in a band concerned with misery and doom...
9hz: You've been a band for several years now, what would you say was a highlight so far?
Necroskull: I counted it as seven years (since the first idea) the other day. Incredible. The highlight came a few weeks ago when we had the honour of being invited to support Electric Wizard at the Forum in London. To play in front of so many people was unbelievable, and to be part of something like that – a real high watermark moment for doom, with a band like Wizard headlining somewhere so big – was a very special thing indeed. There was magic in the air.
9hz: Witchsorrow's overall image seems to be that of misanthropy, the end of humanity and dejection in general, how morose are you guys in real life?
Necroskull: I'm not like that all the time – I'm a big fan of having a beer and listening to Judas Priest – but my overall view of the world is definitely a dim one. Being surrounded by people bothers me. I work in London, so my journey to and from there everyday is a total grump-a-thon. People on TV bother me, people with loud opinions bother me… Emily and I tend to just live in our own little bubble and shut everything else out. This is why when Morrellhammer left we had a bit of a panic about who could replace him – inviting people into our little world is a bit odd.
Another thing is, the world is totally fucked, and I constantly feel like something terrible is coming. I have no idea what, but you can feel it in the air. My bet for the 2012 disaster is that the internet completely goes down. I don't know if it's possible for that to happen, but that'd really fuck things up. It'd be chaos when the electronic house of cards topples down.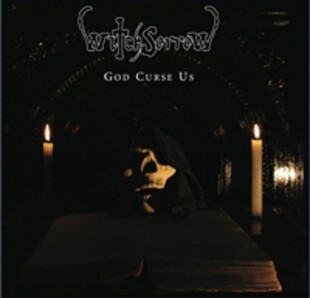 9hz: You recently recorded the latest album God Curse Us at Foel Studios in Wales, which is becoming ever more popular with bands these days, how was that?
Necroskull: It was a very special time. We recorded the first album there as well, and the experience was so good that we wanted to return. It suits us perfectly; it's a long, long way from anywhere, you're truly isolated, which is something I search for quite often. Aside from the special feeling of creating music there, that feeling of being so cut off is a truly wonderful one, so the opportunity to bite our thumb at the rest of the world and retreat to a remote place to create doom metal for our crumbling world was welcome indeed.
It was also a pleasure to work again with our comrade, Chris Fielding. He is a true genius, a master of his art. Seeing him at work is watching someone completely skilled with their tools, and with an incredibly creative mind.
9hz: Being based in the south, how does the doom metal scene vary elsewhere in your experience? Or is it more of a universal thing?
Necroskull: Whenever we've ventured to other places, the turnout has normally been good. The doom scene is more just a dark corner where true metal fans go, as far as I can see.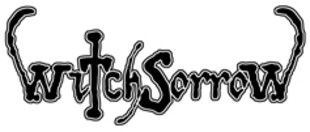 9hz: What are your influences? The obvious ones srping to mind, Black Sabbath, Electric Wizard, Trouble et al, but what makes the three of you tick?
Necroskull: I can only speak for myself (although Emily and I share many musical loves), but I drink heavily from the well of doom, and those bands you mentioned are a huge influence, particularly Sabbath, to whom we owe everything eternally. I'm suspicious of any metal fan who says they don't like '70s Sabbath. It's like denying sunlight or oxygen or water. It is the very essence of this music. Other names who shaped our sound are bands like Candlemass, Reverend Bizarre, Solstice, Count Raven, Dream Death, Pentagram, Iron Man, Force, Pagan Altar, Witchfinder General…
We also dwell in the same shadow as more extreme bands like Beherit, Grave Miasma, Negative Plane, Bathory, Mortuary Drape, Watain, Morbid Angel, Winterfylleth. Dark, vicious bands with fire in their eyes and their bellies. These are bands who, despite playing a slower, more traditional form of dark heavy metal, would be happy to stand alongside.
And, similar to my point about Sabbath, we can't help but be influenced by Iron Maiden, Judas Priest, Metallica, Angel Witch, Accept and such. It is like saying that you are a fan of your respiratory system, or converting food into energy.
9hz: Having yourself and Emily in the band is obviously unusual, do you seperate being married with being in a band together? How are songs written, at practice or between the two of you at home?
Necroskull: We've been together for so long that we can't separate our time like that. The band is something we think about and talk about pretty much all the time. It's part of that little bubble, the band is just part of that way of doing our own thing and making our own world.
Having said that, we don't write at home. It has to be at rehearsal so things come together all as one band. It just doesn't work any other way. We've tried it and it's just impossible. Riffs at home, maybe, but songs are always done with the three of us. It feels like part of the puzzle is missing otherwise.
9hz: Although you play at the more doom-laden end of the spectrum, do you think stoner rock as a genre is relevant these days or has anywhere left to go?
Necroskull: I haven't paid attention to new stoner rock for a long time, really. From what I see it's pretty healthy, though.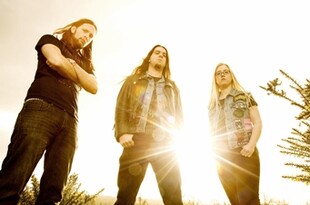 9hz: What equipment do you use and abuse? Do you favour digital or analougue amplification/effects? Why?
Necroskull: Analogue ALWAYS! I can't stand seeing amps covered in lights and buttons and switches. Same for when you turn up to a gig and there's some drummer tarting around with triggers. Fuck that, learn to hit them harder! If you want riffs to sound heavier, play them louder and whack the strings harder. It's metal, it's not a bloody guitar lesson! Master Of Reality, Led Zep IV, Ride The Lightning, Transylvanian Hunger, Forest Of Equilibrium, they were all made without that stuff and they all sound perfect!
9hz: What's the funniest thing you've seen at a Witchsorrow gig? Also, what's the worst gig you've played?
Necroskull: The funniest thing that happened during a gig was not during our set, but while Caravan Of Whores were playing Mark Greening got onstage, uninvited, and began 'singing'. It was terrible, but very funny.
The worst gig we ever played was in Reading, which is an armpit of a town and I already hated it before we played there. There was water dripping onto the stage from the ceiling, an electrifying microphone, a bad promoter. The headline band (Spearhead) got to play three songs to nobody before they were cut off because the promoter had started so late. I spit on Reading.
9hz: Do you see yourself touring abroad this year?
Necroskull: I hope so.
9hz: Vinyl, yay or nay? Do you intend to release any wax soon?
Necroskull: Always vinyl. The first album came out on vinyl, which was a very big source of pride for me, and God Curse Us will as well. There's something wonderful about vinyl – it is literally the physical form of your music. When it's played, it comes to life, the music is etched into it forever, waiting to be played…
9hz: Is there anything in doom metal you'd ban if you could?
Necroskull: British bands pretending to be American, and the idea that it's all a big goof. It's not.
Read a review of God Curse Us here, keep an eye of what Witchsorrow are up to here.