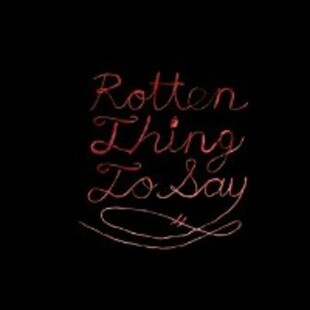 Burning Love haved returned for another dose of lovesick hardcore blues and it's vital you get involved.
Born as a side project which suddenly became a more prevalent band when Cursed suddenly broke up in 2008 (still hurts that) Burning Love released an album in 2010 so this second opus has taken its time to land. But what a sound, produced by Kurt Ballou, giving it that static-like iceburn Converge give you, A Rotten Thing To Say bursts with energy and pent-up aggression, but with a sense of fun thrown in there for good measure.
Chris Colohan, ex-Cursed vocalist is at home here delivering his patented half-shouted rant with some cracking lyrics, involving nuns, catholic girls and Saturday night depression. It's probably closer to the final Cursed release III: Architects of Troubled Sleep than any other material, but Burning Love are a totally unique prospect. They have that uncomprimising hardcore sound, but with some proper pacey blues slipping in there in the form of twiddly leads, pinched harmonics and a more bottle-rocket-esque tempo that makes you feel euphoric rather than seething with rage.
If you want a close example, think The Dwarves without as much of the sleaze or talk of strippers, that's not to say this isn't fun. It oozes charm and makes you want to fall over in a pool of spilt beer at the front of one of their shows, its rabid, hostile and fucking good fun.
The 40-second Tremors is a real example of what the band are capable of, seemingly written to kill you dead, it blasts into your cerebral cortex with some real force. The band are fond of squealing feedback and aren't afraid to pummel you with it before a blast of noise. If you loved Cursed and Burning Love's debut album, you'll be knocked for six with this. If you are new to both bands, what's wrong with you?