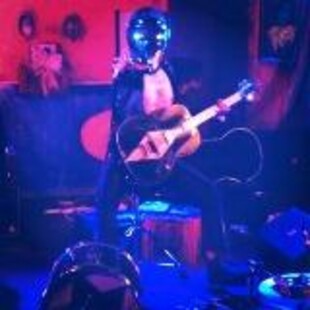 When you realise its 'only' Tuesday and the day begins, you are normally filled with depression, boredom and lethargy. That is unless you are having an evening out and about. My last Tuesday was filled with blues, blues that actually made me happy to be alive.
Telfords Warehouse is a venue in the little old city of Chester, home of Hollyoaks and many people pretending to be something they're not. This was the venue that staged a little-known chap that goes by the name of Bob Log III.
Having once read a Guitar and Bass magazine in 1998 that featured Bob Log III, I was intrigued all those years ago, by the image of what can only be described as a blues spaceman.
When I arrived at the venue, I ventured over to the bar for a pint of oat-pop and made my way to the stage, there were approximately 75 people eagerly waiting for Bob to arrive.
My girlfriend informed me that Bob Log had supported the Pixies at Brixton Academy in 2006, so this intimate gig was going to be something quite special indeed.
As we chatted amongst ourselves and the DJ played a mix of Gary Glitter and garage rock, some fierce slide guitar playing began to interrupt, out he came, dressed in a dinner jacket, jumpsuit and trademark, 50's jet fighter helmet with a telephone stuck to the front. The audience was flawed, he sat down on his little stool and began to test his kick-drum and pedal-cymbal.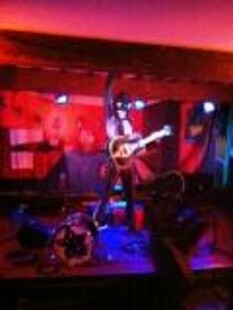 He stood up after his brief introduction and yelled 'YEAH!' which was the shape of things to come, Bob Log told us who he was, why he was here and blasted into his first number, the audience stood in silence and watched the madness unfold as Bob ripped through his set on a brand-less, arch-top guitar that was strung with thick strings and barely stayed in tune, but it just worked.
Whilst we all stood and watched a sonic-blues-spaceman-assault, it dawned on me that this guy had a lot more to offer than just being a one man band, in between songs he would have the audience laughing at his anecdotes from the road, he would involve audience members and generally just be cool as shit.
During the last of his set, following many 'liquid applause's' (in which Bob takes a hearty swig from whatever beverage is closest) Bob requested to female audience members to come and sit on his knees which he duly introduced as 'right knee' and 'left knee' he then tore into a song which followed in the same vein as his previous numbers albeit with two girls on his legs, this made for interesting watching to see if either would fall into his foot-cymbal, alas, the show continued without the need for any first aid.
Combining sounds of Primus, Son House and Robert Johnson was never going to be easy, but Bob Log III, is Chester's newest hero. He manages to make Seasick Steve look dated, the Black Keys look like the Thompson Twins and any other band who thought they knew blues look like a cheap pub band. Every song was ended with the trademark 'YEAH!!!' and the crowd mimicked him.
Joined onstage by a man in a gorilla suit was probably not part of the act but Bob played on regardless, he managed to stay cool when people heckled him, this type of shit is guaranteed at a gig such as this, there will always be one dickhead who, tries to engage the artist in conversation during song-breaks, as if the artist will just jump down from the set and offer the heckler a pint and a chat. The heckler, who is trying his best to get to the artist is surrounded by no-one as he's caused major embarrassment for his friends...why let the good times go bad? leave your dicks at home.
Towards the final numbers, Bob changed guitars to a similar arch-top that also was in a bizarre tuning, whilst playing bass and lead on this new guitar, I began to wonder whether or not Bob Log III was a one-trick pony, my conclusion is yes, but what a pony it is!
This is not the type of show that is seen anywhere else in Chester, how Telfords had managed to secure Bob Log III is a complete mystery to many, this must be the shape of things to come due to excellent promotion and sound-desk skills.