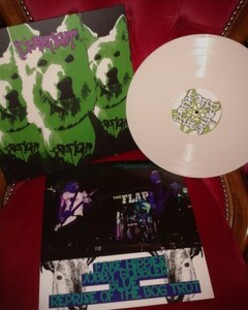 This is the third in a terriffic compilation series that started in 2008. This year's could well be the best yet.
With 2 CDs full of purely unreleased tracks from some of the best bands the world has to offer, it's like a completist's wet dream. The likes of Monarch, scraping their way through a slow motion storm, stand alongside Scottish misanthropes Black Sun and the established acts sit comfortably with the less well known, but are no less mind-blowing.
There's an interesting contribution from former Made Out of Babies' singer Julie Christmas, who sounds for all the world like a candy cane-holding nightmare of a person. That sickly sweet voice that puts me in mind of the old Looney Tunes character Elvira, it's an acquired taste, her track showcases all her talents, from coquettish minx to full on raging beast, careful with that one.
The Pink Floydisms of Ocoia impress, their carefully picked notes ascending to prog heaven within their lengthy track here. Old friends The Winchester Club (featuring ex-Hangnail and End Of Level Boss chap Harry Armstrong) also appear in glorious instrumental mode.
Elsewhere French post-metal masters Year of No Light enter a collaboration with Mars Red Sky to create a brooding soundscape far away from their ususal dark, heads-down pummel.
Ethereal Ruffian are not only the best-named band on the compilation, but also the standout, having never come across them before, their mournful, sombre track soon turns into a planetary landscape that is a pleasure to explore.
The Falling Down curators have done an incredible job, with all tracks being exclusive and unreleased, you have no excuse not to check this out, buy it here.