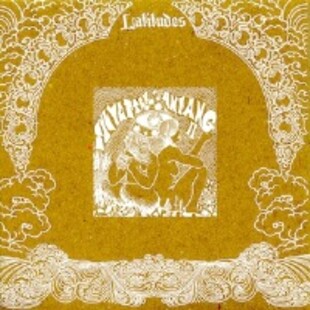 As rain pisses on us all from a sky that bears a striking resemblance to skin of a dead body,my ears were introduced to what sounded like a Belgian serial killers quiet thoughts.
This is Sylvester Anfang II presented by Latitudes, a fair-deal series aimed at genuinely supporting bands, this installement, that comes in the form of psychedelics that urge your brain to desperately cling onto each single, reverb soaked guitar part.
As post-rock as they be possibly percieved as, there is quite a lot more to this release than first fades in.
It would seem that they are somewhat of a progressive band that would make excellent music to take in on a day such as this, lightly played drums form the eloquent background that would build up and slowly become a gargantuan wave of mid-sixties style, San-Fran, psych-rock for the rest of the music to ride upon.
With each track, this EP contains 5 jams, as expected from a band that sound like Sleepy Sun's, bastard-little-brother this is the type of music you need for sitting and staring at pictures of Rick Griffin artwork.
As each jam unfolds throughout, you are kind of left wondering how much longer you have to endure each riff, which, if you were at one of their gigs you may wonder where you actually, mentally were.
The last jam is one that could be sponsored by Fender with clean, out-of-phase guitars battling in each other in a kind of Space-Surf from the 50's, it is almost something you might expect Chris Isaak to come sliding on like a damp fish.
It begins to make sense as the sixties psychedelic sounds surface in the mix and its like you have Big Brother & The Holding Company attacking Country Joe and the Fish whilst Duane Eddy and Scotty More look on.
Bass-lines are as reliable as Jack Cassady during some of his lengthy jams around 1968 whilst drums with added keys provide a hint of build ups that will never happen unless you were stood in their practise room.
Whether or not you dig freak-out, San-Fran flavoured sounds and jams is going to be a key factor in this for the listener. If you can hack the same tone/repetition for what may feel like hours, you're sold.
They have 500 copies on white vinyl to snap up, its a pretty unique package too, die-cut sleeve and aesthetically pleasing materials have been utilised here.
If you require pure-balls to the sounds you require then perhaps Sylvester Anfang II's next release is possibly,
just what you need if its totally pissing it down outside...
Try your ears on some Funeral-Folk.