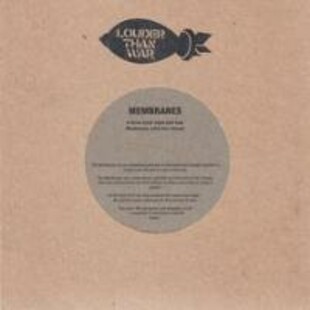 So 80s legends The Membranes have marked their return with a record store day Triple A-side.
Asked to reform in 2009 for the My Bloody Valentine-curated All Tomorrow's Parties festival, The Membranes have been back together since.
This is their first material in what seems forever, and finds them firing on all weird cylinders. First track If You Enter The Arena You Have To Be Prepared To Deal With Lions' kicks off with an Oxbow-like amount of stream of conciousness vitriol, all angular guitars and the vocals spitting and invecting all sorts of venom all over the top. It comes across almost like a soothsayer who's gone mad and is shouting at people in the street. It continues with a less angry, but still as intense manner, the title being sung as well as the more narrative voices chiming in before it explodes into feedback and guitar squalls. Age has not mellowed this,one of the most inventive bands this country has spit out in recent history.
'B.O.O.T.S' is a Fall-like stomper and lasts just past the 90-second mark, with weird crowd noises and that 80s sound being pressed into your skull for a brief, glorious moment.
Closer Everything's Brilliant' seems to be a succint post punk statement on the state of the nation, with some extra surf rock being placed in there for good measure. Lyrics are both sarcastic and truthful at the same time, it's interesting this band have come back at a time when the 80s seem to be being reflected in almost every facet of life. Indeed, everyone's frightened, scared and unemployment rules, we've done a u-turn, but The Membranes haven't.
Hopefully we'll see an LP from these guys this year too, who knows? As this was released for Record Store Day, you may have trouble finding it for general sale, but seek it out if you can, it's worth it.