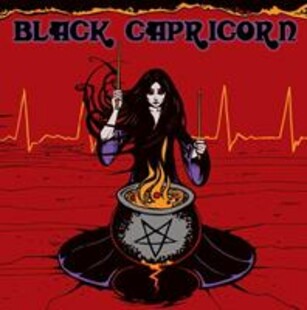 Released last year, but only falling into our laps recently, this album from Sardinia's Black Capricorn packs a misanthropic punch, laden with curls of black smoke, talk of witches, lava and with some amazing artwork courtesy of stoner rock and doom art wizard Malleus (the woman pictured is however clothed for once).
This band features members of Black Hole of Hulejra, who we reviewed back in 2005, and things have gotten a lot less stoner rock and more Sabbath-i-fied since then. Worshipping at the altar of The Obsessed and Black Sabbath is no bad thing and BC hold a mid-paced doom-laden air that both draws you in and captivates.
There's more going on that simply bass, drums, guitar and vocals too, samples pepper the release, the soft sound of a fire burning, a space shuttle countdown and various others mean it's a multi-layered beast.
Vocals are often filtered through a thick layer of fuzz, giving it that Electric Wizard feel and with some equally fuzz-clogged guitars, it makes for a head-nodding ritualistic listen.
It's not just a one-trick pony that BC employ either, there's some deep psyche going on, witness the shimmering undertones of '10,000 Tonnes of Lava' for example, it has that burbling effect that the masters of the genre, Acid Mother's Temple employ to trippy, invigorating effect.
Black Capricorn certainly aren't doing anything new with the genre, but their slow burning brand of dark, mysterious doom certainly demands your attention, put aside some time for this release when it's throwing it down with rain outside and you'll be glad you did.
Find out more via their website here.