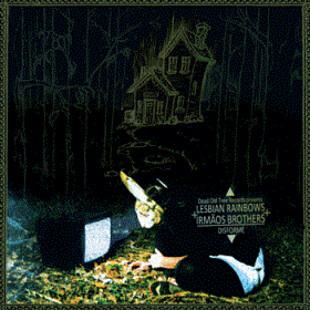 Split releases offer a great opportunity to hear two bands at their selected best. This 7" showcases two Portuguese bands with plenty of promise.
Lesbian Rainbows start proceedings with 'Pandeireta de la muerte', which translates as 'tamborine of death', as best as my internet searches can come up with (therefore probably wrong). It is a glorious mess - rabid vocals and fast riffs dominate a thouroughly enjoyable first half or more of the song; harsh sounding screaming hardcore gripping you, before slowing down to more manic output. Squawking brass and deranged outpourings from an obviously pained vocalist follow, unexpectedly, but with the riff beating life underneath, it fits. The end of the song sounds like a raw Volt or Dyse gone hardcore - and amazingly flows from the first half. You'd imagine the change to sound contrived, but it feels natural and intriguingly better for it.
The recent ninehertz interview with the Irmãos Brothers was a great read. It pointed to a band following the flow wherever it take them, so it's interesting to get the chance to hear them constricted to one side of a 7". 'Ja Cedo a Sombra se Pos' is their offering to this split and lasts barely three minutes. The mood begins slowly, but a rip roaring stoner riff gets the song kicking, before breaking down in a style that brings to mind Rotor or an instrumental End of Level Boss. This is the sound of a band jamming stoner riffs for their own amusement, yet managing to intrigue and delight those who listen at the same time.
Highly recommended, even if not for this release then for keeping a tab on the two band names in the future.