Herein contains a true representation of Roadburn's epic mix of the heavy, esoteric and downright bizzare. Brevity is our friend as Pete Green takes us on a whistle-stop opinion train tour of thought...
THURSDAY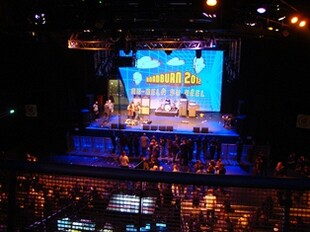 D.usk/disembowelment - As cheery a festival opening act as watching your Nan being savagely beaten to death and then being forced to eat her dripping corpse along with a pack of mutant wolves; classic Aussie death-doom to open the fest.
Virus - I went to see Virus thinking they were an '80s thrash band but they turned out to be weird Eastern-tinged classic metal, so that told me so.
Saturnalia Temple - Classic doom led by a man in a frilly black shirt, the Swedish riffsters completely owned the Green Room.
Christian Mistress - Phwoar! I wish she were me mistress, err I mean yeah, no-holds-barred NWOBHM thrash, first "fun" band of the weekend.
OM - Sublime drum and bass-led musicianship from the Sleep/Neurosis duo, even if they did seem completely clueless as to what to do between tracks.
Red Fang - Why are they on the fourth stage?! The Oregon favourites remind us that superstardom beckons with their sublime QOTSA-meets-Torche-meets-Mastodon sludge.
Lord Vicar - The big names live up to their billing with some crushing lead chops from Peter Vicar and a sublime classic vocal performance from Chritus.
Black Tusk - All attempts to barrage my way into the tiny Stage01 to see the Atlanta sludge behemoths were utterly futile; a shame as they sounded like they were killing it in there.
Ulver - A weird covers set from the experimental lumberers, a bit poncey for me.
Voivod (First set) - Although I only got to see 5 songs before running for the train, it was clear that the French-Canadian metallers were on top form and enjoying every second of their headlining hits set. Wish I could've seen more.
FRIDAY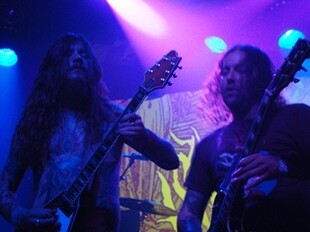 Wino & Connie Ochs - The acoustic duo treated us to sublime cuts from their soft yet powerful 'Heavy Kingdom' record, even if it did look like a boy and his dad strumming away in a corner of a pub.
Nachtmystium - How do you follow some gorgeously gentle unplugged ditties? With some brutal death metal of course, and hearing the Chicago-based thrashers ripping through 'Instinct Decay' in its entirety was pretty skull-flattening.
End of Level Boss - Led by cheeky chappie frontman Harry Armstrong, EOLB were on top proggy form and clearly ecstatic to be sharing the day with their heroes Voivod.
J.G. Thirlwell's 'Manorexia' - Solemn orchestra dim down the lights and the mood on the main stage. Not entirely sure what this was all about but it was a welcome respite from thee ryfe.
Kong - Imagine Karma To Burn giving a lap dance to The Prodigy and you've got Kong - one of the surprise festival highlights for me.
Witch - With J Mascis in the band, it's never going to be bad is it? Delightful garage-stoner rock from some of the all-time masters, while half the festival crammed into the Stage01 to try to glimpse Conan.
Yob (First set) - Playing the magnificent 'The Unreal Never Lived' in its entirety, this grandiose demonstration of the art of the variation achievable within heavy music from Mike Scheidt and his merry men will go down in Roadburn history as a changing point in the genre.
Voivod (Second set) - Another album set this time from the headlining curators with 'Dimension Hatröss', Voivod proved their credentials as one of metal's all-time legendary bands with huge shit-eating grins galore.
Dopethrone - A weed-chomping rampage through Riff City with Canada's finest bong-worshippers, topped off with a hilariously destructive cover of 'Ain't No Sunshine When She's Gone' - crushing.
SATURDAY
40 Watt Sun - Harrowing, bleak and downcast, yet oh so beautiful post-metal-post-shoegaze-post-box from the British leaders of post-funeral-post-doom-post-post-this.
Bob Wayne and the Outlaw Carnies - After an hour in the deep dark bowels of 40WS's abyss, some Hayseed Dixie by-way-of Hank3 rockabilly was the perfect tonic - hilarious American-an genius.
Saviours - Yes, yes, I've seen the Californian trad-rockers more times than I can name, but do they bring the heavy energy, giganto riffs and titanium-edged groove harder than ever before? Oh fuck yes!
Pelican - I always thought that Pelican were simple post-rock indie kids, I was wrong: their crushingly complex and head-noddingly heavy riffs reminded us all that life after Isis is flourishing just fine.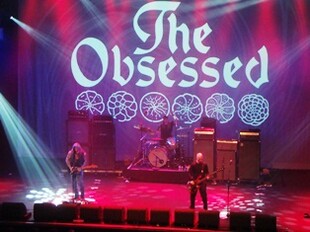 The Obsessed - The legends supreme graced us with a set of timeless doom classics that cannot be bettered for their songwriting craft, thunderous vigour or earnest passion... I still thought that Wino was lagging a little behind Greg Rogers' monolithic drumming pace, mind.
Necro Deathmort - Another packed out and harrowingly bleak Stage01 performance from an act that needs to be seen live if only just to remind yourself that they're nearly entirely electronic.
Sleep - Matt Pike has got his shirt off! Hip hip hip hooray! Two gargantuan amp stacks await us back on the Main Stage as Messrs Pike and Cisneros show us all the art of being loud, stoned and hideously cosmic on a swaree up the Holy Mountain with the Dopesmokers of the world.
Heavy Jam - What do you get if you let Mario Rubalcaba, J Mascis, Mike Eginton, and Graham Clise get on stage with zero prior rehearsal for a simple hour-long jam? Utter genius, that's what - a festival highlight with their huge ad-hoc riffs and bull's-eye precision under Mario's watchful beats. Side-project please!
Jucifer - Again, I only caught the back end, but the husband and wife doom-duo (doomuo?!) sounded heavier than a sack of spuds on Venus.
SUNDAY
The Mount Fuji Doomjazz Corporation - Cello - pleasant, bass and guitar - weighty, trombone - eloquent, all mashed together through an iMac to create some of the harshest noisecore possible - interesting!
Electric Orange - Psychey trippiness galore in the Green Room as Aachen, Germany's finest let rip the solar voyage to a new dimension.
Internal Void - It's a shame to see such an experienced band show such little passion to perform nor any outstanding features to detract from their all-too-basic stoner rock; completely uninspiring in every way.
Bongripper - This is the last thing you want with one of your most raging hangovers in months, the Chicago youngsters delivered wave upon wave of their circling instrumental opus 'Satan Worshipping Doom', knocking several people literally unconscious in the process. I had to leave before I threw up over the balcony.
Yob (Second set) - Set number 2 from the ever popular Oregon trio, this time performing sophomore record 'Catharsis' all the way through - a bluesier, and looser album than T.U.N.L.
Coroner - It's good to have a headliner with a different focus to the rest of the festival pack and German thrash legends Coroner provide a breath of fresh air from the doom dirge with their strident, industrial-tinged metal.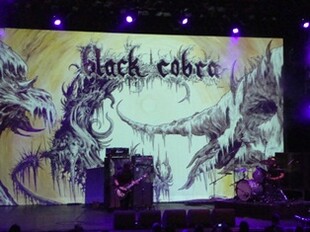 Fleshpress - It's packed out once again in the Green Room for a well-varied, yet overly short 30-minute only set from the bruising Finnish sludge-bosses.
Black Cobra - After 5 solid days of head-banging, drinking and soaking up more Sonic punishment than a Sega Megadrive, I can barely stand up. What better way to close the show than with a two-man mountain of riffs that layer mutilated chords and black-belt pummelled drums, which is a triumph to send us all home wincing.