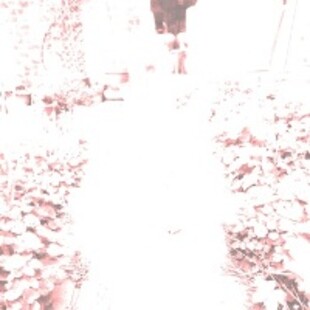 Tom Honey suffers from tinnitus. Under the name Good Weather For An Airstrike he started making soothing ambient and post-rock music to alleviate his condition and assist in his search for sleep. Every writer who has covered him probably touches on this, but I cannot help but pick up on it as I read the blurb for this album, Underneath The Stars as it is such a hook into discussing the music.
The track titles speak to his quest for a peaceful night, Theta Waves opening, Delta Sleep/REM and Delta Waves occurring later in the tracklist. This is headphones music, subtle and gentle. I have listened to more than my fair share of ambient and post-rock in my twenties, and Underneath The Stars definitely has something about it as it begins, drifting between pure ambience and pleasing tones on soothing frequencies to moments where strings, guitar and piano enter and paint dreamy landscapes of rolling hills and forests hit by evening or dawn light. Fragments of found sounds and field recordings emerge from the calm, such as pleasing rainfall and other sounds of nature in the transition between the first two tracks.
This is very much a blissful album, indeed I feel myself zoning out and drifting as one should. Ambient and soundscape music such as this can risk descending into a haze of meaningless noise, but the field recordings and use of moments of clear instruments amidst the drones and pure tones breaks up the sound. The guitars and general structure recall Brian Eno's seminal Apollo Atmospheres & Soundtracks, though perhaps with less concise stewardship than Eno provided on that release.
If I have one complaint it is that some of the frequencies in use here are rather penetrative. On several tracks when listening on headphones I found the sound rising in volume and tone to points where I felt physical discomfort as some transient wormed its way into my skull. Not exactly what one wants when trying to relax, and I could wax technical about running the sound through a frequency analyser and filtering out these transients somehow and how mindful one must be in producing music of this type, or maybe I should just listen to the album on a lower volume instead of hunting out all the details as I am trying to do now, sitting here with headphones up high feeling out the hidden forms.
The album does have a definite structure of sorts, starting with more solid, recognisable sounds, then slowly decohering into deep drones and frequencies that move far away from any natural instrument. On the final track, Theroux, there is something near sub-bass that rumbles away in the background and makes me recall samples I once listened to of radio telescopes recording the sounds of the stars. Here, Underneath The Stars, as the sounds become like those of nature and the universe, meaningless and meaningful all at once in their unspecific shapes, I can see how the album would pull one down deeper into dreamtime and the depths of Delta sleep.
There are greater ambient works out there, and I would have liked to see the album maintain a little more focus towards the end and return to some of the delicate guitar and piano (though that may be contrary to the artist's intentions), but this is an solid release in the drone/ambient sphere.
Listen to the full album here.