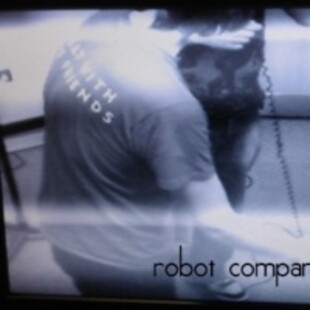 The lead off, Babe City, on this nebulously titled debut EP by Robot Company gives me a nagging sensation, a deja vu. No bad thing, at one minute and thirty-eight seconds it does not outstay its welcome and indeed the simplicity of the sole guitar and vocals leaves me curious as to what comes next. I am reaching out here, trying to find an easy label for these gentlemen, and thankfully failing. They hail from Birmingham, but they sound like they're communicating from a room in some unnamed city on the north east coast of America.
The production is loose with a echoing vibe, and they recall certain progressions that make me think of Sonic Youth, but the space, and the sudden sparks of reverbed guitars get me into an 80s English alternative mood, a certain harkening to Echo & The Bunnymen. This is offset by a persistent grunge rhythm, but the production sound and sudden delights of sonically diverse fragments from the guitarist bring a smile.
For shame, the sole information to be gleaned from the Bandcamp page here is in the tags, "alternative alternative powerpop punk rock Birmingham," so to the internet stalking machine we go. A Facebook page, revealing the band is but three men, and their influences confirm my thoughts as they name the likes of The Replacements, Teenage Fanclub, My Bloody Valentine, Nirvana and Ride, amongst others. They do move along a peculiar edge between grunge and shoegaze/80s English alt rock.
I cannot deny a certain preference for both those sonic palettes, and I have to commend Robot Company on merging these genres into something interesting and coherent. Music history, if you believe the music press anyway, speaks to shoegaze (MBV et al.) being obliterated by the arrival of grunge (Nirvana, etc., obv.) on the axis of the late 80s and early 90s. Robot Company have held peace talks between these sounds some twenty years later and strange bedfellows though the genres may be the band really benefits from the contrast.
They give me a waking dream of rainy cities on both sides of the North Atlantic. If I'm honest they are occasionally a little too reliant on their influences, like so many fresh-faced musicians, and can descend into inoffensive aping of bands who've done this before. But there, look: rain on concrete and in the distance between the passing headlights there are trees on the city limits. With time Robot Company could travel beyond their influences and do some interesting things. In the mean time this debut EP is pay what you want, so give them a few pounds and some encouragement.
You can listen to the whole release for free here.