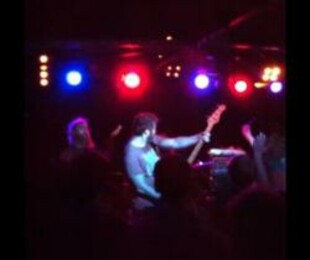 Following the almost viral-like circulation of Red Fang's 'Prehistoric Dog' video back in early 2011, UK fans got to hear and see a band combine beer, riffs, beards and a crew of larpers take quite gruesome revenge.
When the word got out that Red Fang were to play Wrexham Central Station in April 2012, tickets began to run low and fans began to make arrangements to witness them tear the venue to pieces on a wet Tuesday school-night.
The lineup for the gig was originally Red Fang, Priestess and Mother of Six. This was changed shortly to Red Fang, Black Tusk, Mother of Six and Antlered Man.
Beginning the evenings noise were Antlered Man from London who tried dearly to fuse Queens of the Stone Age-style riffs with experimental vocals and alternating drum patterns, this is a bold move for any band and unfortunately, it didn't pay off.
The band trundled through their set with the singer doing his best Troy Van Leeuwen slide guitar impression and trying to front the band as best a possible.
Around three songs in, the singer announced that they were going to perform a song written, so eloquently about sucking-off homeless people, bemused faces around the venue watched as the singer then pulled out a tin whistle and the song was heard but few could relate to.
Next up on the bill was Wrexhams very own Mother of Six, this band were a lot more fitting to the overall vibe of the evening, a five piece band I have had the pleasure of seeing many times before, as they began to create
their own brand of 'Druid Doom' the audience were silenced by the sheer wall of crushing guitars that fell on the ears of the crowd like a loose wrecking ball.
The band have had a few line-up changes over the years but have always maintained a very unique sound over the years they have been together with pseudo-Soundgarden lyrics and vocals, kyuss-esque basslines and Sleep-worshipping guitars marching along to what sounds like 666 cavemen all beating the same drums.
New material from Mother of Six was also a pleasure as the new songs fuse monolithic riffs with stoner-friendly grooves, 'The Integral' album reviewed here a few weeks back is also worth a listen.
Black Tusk were next to hit the stage and managed to up the volume one more notch and brought infectious beats and walls of sludge crashing around topped with an especially heavy growl that complimented the line up also.
The riffs were also in abundance here with the guitarist pulling the most noise from his Pelham Blue SG. The alternating vocal duties coupled with the drone of a bass tuned to B added a great dimension to their own brand of black swamp metal. The band were unfortunately dogged by sound difficulties in the stage monitors and their guitarist asked at one point to get the monitors turned off, that's always the problem you'll face when playing at skin-melting volume, as a Marshall amplifier technician once told me, 'If you run it flat out, you may as well be playing a time-bomb'.
As Red Fang took to the stage there was obvious anticipation for 'Prehistoric Dog' 'Wires' or 'Hank is Dead' but as they upped the volume once again with the opening song from 'Murder the Mountains' their second album released in 2011, the crowd settled back to watch Portland's finest tear Wrexham up.
The band looked tired and cold before the show certainly didn't let any of the crowd down by unleashing mountainous fuzz and versatile vocals throughout their set.
Again, dogged by sound problems on guitar then vocals, the band ripped into all the favourites except mine and a few others', 'Throw Up' again from their second album.
Just as they put their axes down and sauntered off, I stood hoping they would come back for one more blast. They appeared again and 'Throw Up' began, as the song reached its stomping doom finale, the audience went absolutely berserk with fans throwing themselves harder than they had done all night.
To sum it up, if you missed this gig, you genuinely missed out, if they are still on tour as you read this you need to get to their next one...post-haste!