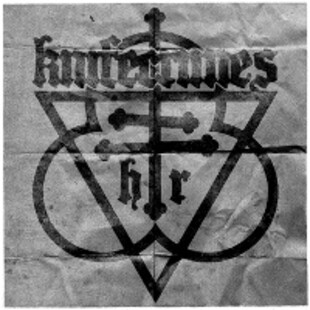 So this is a very limited tape, just fiddy exist and it's an oil-spitting, rage-filled blast of mid-paced hardcore.
What I immediately love about this is the vocals sound amazing, almost like Bloody Kev from Helvis/Wives of Seth/a million other bands. It sounds both rooted in hardcore traditions, yet unique at the same time. With a snotty accent to it, this couldn't be from anywhere else but England and it's nice to hear this style of hardcore being done in a heads-down independent way.
The music carries the influences of its members without conciously trying to, members of dark post-metal instumentalists Bleaklow stand alongside the former drummer for tech-metallers Asuras and the bassist can normally be found writhing around on the floor in the incredible Pine Barrens.
The tape is over before you can even breathe, but the songs on offer pack so much of a treat, you won't care. There's fast, late-90s style hardcore one moment, sparse, epic stuff in the vein of Cursed or even the more barbed stylings of bands like American Nightmare in there the other.
The production is suprisingly clear too, every scrape of the string, every crack of the snare is crystal, but it still harbours a fuzzed, unpleasant tone which suits the bubbling anger you can feel underneath.
Having seen these guys live, it's like a ball of energy waiting to be unleashed, can't wait to hear more to be honest.
You can stream this piece of filth here or even better, buy the tape (complete with patch, exclusive tape-only b-side and a live set) here. Knife Crimes have arrived and they aren't happy.