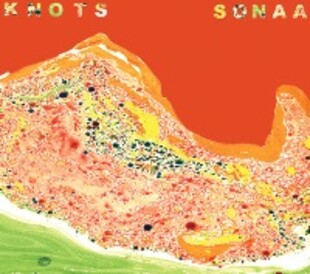 SONAA are a folk collective of sorts, based in Brighton, they have enjoyed success over the last few years thanks to their unique and varied folk sound.
This is their second album and shimmers with a neo-folk sound that sparks visions of the chart-friendly likes of Mumford and Sons, Laura Marling and even Grizzly Bear et al, but with a more introspective and pastroal feel. The band features a member of Marling's backing band of course, as well as members of Lightspeed Champion, Hope Of The States, The Miserable Rich and The Leisure Society, so the calibre of musicians on offer here is high.
Coming across like a more rural-fied and English-sounding version of the likes of Six Organs Of Admittance, the music sparkles with a sheen of strings, carefully-picked acoustic guitars and a miasma of vocal styles, both male and female. It's music for stargazing, it shimmers with the same brightness and takes you on a terrific journey through countryside and cities.
The rough-shod and clunking 'Jellyfish Bloom' even recalls elements of the great Neutral Milk Hotel, off kilter and a bit strange, it moves in weird ways, before giving way to some gorgeous swathes of strings and in turn some drunken-sounding backing vocals.
Every track seems a treat, with space placed liberally between the voice and instrumentation, it sounds beautiful through its calm, sweeping journey. Knowing when to bring everyone together and when to simply leave it as single voice and guitar, the production sounds both rich and airy at the same time, which is a mean feat.
This would be equally at home on a cold winter's night, tucked up next to a fire, or even at dusk on a hazy summer's evening, simply a mind-blowing release.