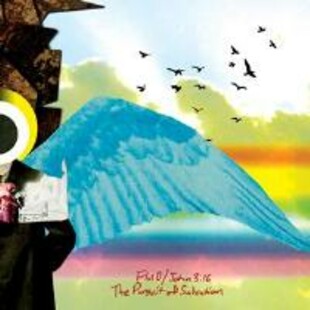 This French release is a split 12" between two ambient and dark electronic artists with a fixation on digital fuzz.
Although that sounds intriuging, it's not the kind of modern and noisey kind of fuzz, it's a somewhat dated sound that nontheless still grabs your attention. Somewhere between dub and the kind of digital experimentation Atari Teenage Riot used to force on us (willingly), albeit very truncated and chilled out, it never stays the same for more than a few moments.
FluiD (yes the nu-metal typography is correct) seems to deal in knocking bass and snare work with digital winds blowing across the background, letting synths take hold and sneaking in a few muffled samples, whereas his fellow knob-twiddler John 3:16 seems to deal with even more stifled drones and a creeping sense of fear.
It's all rather overenthusiastic and lacks any subtlety and after a while you wonder what the point might be. Are they soundtracking an uneventful walk to the shops or creating chillout music for a club that has its lights down so low you wonder if it's open?
An exercise in baffling wonder, all rather unsettling if I'm being honest, not sure I can deal with its dark tones all at once. It's out in May, so you have time to prepare, in the meantime, keep checking over your shoulder like I am.