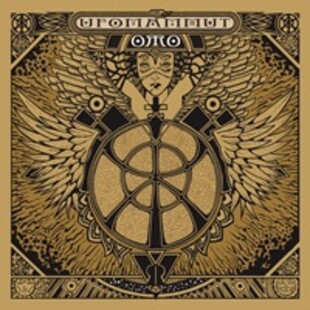 This is the Italian's sixth album and is just the first part of a two-album 'set'.
This one, entitled 'Oro: Opus Primium' is out in April and the follow-up 'Oro: Opus Alter' is out in September, but going by the layers evident here, you'll be unraveling this particular onion for that long anyway.
The only way to describe this is drawn out, but not slow by any stretch. Think the heartbeat-like pull of bands like Orthodox who keep things paced but plodding and you'll get a vision of what Ufomammut are up to here.
Towering riffs overshadow skittering electronic effects that pulse under and it's as if your mind has become the old Windows screensaver, you know the one, if you looked at it long enough, your eyes went funny.
'Oro' according to the band, translates as 'gold' in Italian, hence the awesome Malleus artwork on the cover, but also roughly translates in Latin as 'I Pray' so the religious aspect creeps in, endless worship if you will. As soon as you think you have this trio pegged, they come in with another thematic shift, like a journey into the mountains to find a completely new landscape the other side.
It's mesmerising as well as imposing, like a hefty tome that needs your full attention. Crank this through some quality speakers and you will have a rumble that may well threaten to get you evicted.
There's also a recurring synth coda that creeps up on you throughout, look out for it, it may just be your only waymarker.