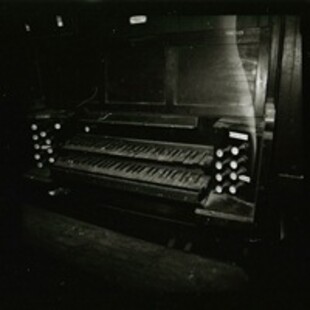 This sounds like the dead space between lunar transmissions, an Anglo-French collaboration that explores the space in between the notes.
Richard Knox runs Gizeh Records in Leeds and is a member of such sound artists as Glissando and A-Sun Amissa, whereas Frederic is a member of Paris-based FareWell Poetry.
The pair's bands toured together a while back and as a result, they decided to make some quiet, introspective music together, first through working seperately and sending material back and forth, before recording in a church in Leeds last Winter.
Their aim was to replicate the effects found 450km from the arctic circle, where draught from human breath collides with ice particles in the air to create a strange, barely audible sound.
Using subtle electric guitar, nothing in the way of percussion and drawing on a host of guests, the album is a dreamy affair, sounds swirl and die over each other and it never descends into static or noise, which it could so easily do. Instead, long drawn-out notes are placed over each other, strings arch over dulcimer strikes and feedback squeals so delicate you almost wonder if they are there.
There's liberal use of field recordings here, the crackle and pop of some of them creating a background on which the keys, strings and unique sounds can explore.
It's all very peaceful and could be the perfect soundtrack to a documentary on the subject, but also stands up well on its own. The glacial speed mirrors the subject matter well, the yawn-like sounds taking on forms in your mind of ice, snow, cold and a blank void.
Stirring stuff, just don't play it while you are driving.