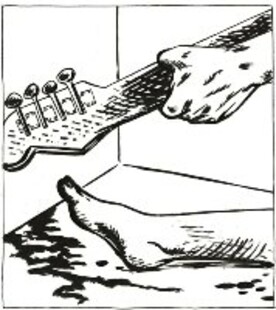 Here's a blast of 16 songs in 16 minutes, all raging punk nihilism from members of Black Flag, Burning Brides, Red Kross, Earthless and Hot Snakes.
As you'd expect from that selection of talent, it's pretty damn good, part surf-rock, part snotty 70s punk, its simple, powerful and just a lot of fun.
It's not just three-chord nonsense either, each tune fires into something new, but they all share a sense of speed and to-the-point purpose.
Singer Keith Morris has a Jello Biafra-style vibrato at points and his vocals recall all that's great about the Americanised punk sound, clearly-enunciated but still aggressive and threatening. I can imagine they are ripping up stages they are gracing at this year's SXSW festival and apparently Rolling Stone have named them as ones to watch.
This self-titled release is worth investigating purely for the song 'King Kong Brigade' alone, with the line 'I want to club yeah, like a baby seal' being a particular highlight, the track fading out with the sounds of apes going wild.