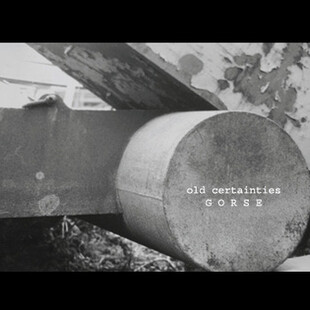 Ratty South Coast skanks, Gorse's first offering – "The Slumber of Artemis" – was a rather ghastly sounding affair which took the rawness and spite of the North American indie-rock underground c. 1992 and combined this with the dynamics and muscularity of modern wrong'uns, Pissed Jeans and Racebannon.
New release, "Old Certainties" still wears these influences on its sleeve and is unashamedly DIY in its aspect – as evidenced by the fact that the band have recorded this alone, as well as organising the layout of the beautiful packaging; drummer Jennie taking the photos and handwriting the charming liner booklet. The band has managed to refine their sound, whilst maintaining the muscular nastiness that defined "The Slumber…"
Subtleties such as Jennie's backing vocals compliment frontman James' slurred howls, which have lost none of their bite and brawn, but have grown more tuneful and urbane from the pissed-up hooligan bawl that permeated "The Slumber…" Keys pump in ambient crunch throughout the entire album, adding a nice bit of depth and edginess to proceedings. Staccato riffs, which build into methy ragas are favoured over the twitchy melodies of old and churn away over choppy, syncopated tribal poundings.
In terms of stand-out tracks, "Ramifications" sounds like J Mascis jamming out with Clockcleaner, which crystallizes the band's development from one record to the next. Mantra to cannibalism, "Custom of the Sea" expands on the repetitive, tribal theme, becoming almost motoric. This song is really a thing of near unparalleled maliciousness. Penultimate number, "Crucible" sounds like listening to Kyuss on a cassette Walkman with dying batteries, lurching and careering out of the speakers with very little consideration for those listening.
The synergy between tracks is great and each song has its own space to breathe and is not crowded by its neighbour. It doesn't feel as if there's anything out of place on the album, but in the context of a record which is out of place in polite society – don't expect anything too polite or gentlemanly. As such, over the course of their existence, Gorse have demonstrated that there's more than one way of skinning a cat. And both ways are not very pleasant.
Just to clarify in case this all sounds a little ambiguous - I give it five Richies out of five.