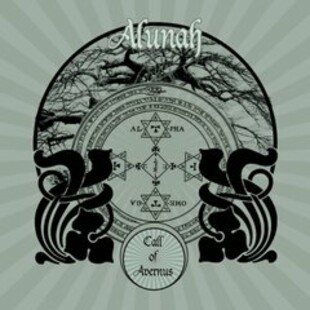 There are many things that most hard rock bands would give a left ball to have at their disposal. Two such examples include: a strong set of bone-solid, hummable and accessibly-written songs and a vocalist so distinctive that they define the band instantly to any returning listener. Alunah have both of these traits in abundance and waste no time using them together in a sonic battering-ram of refreshingly dynamic groove.
These Birmingham-based boogie-doomers certainly aren't newcomers to a UK scene which already boasts some of the world's best retro-rock acts, but by taking their tender time, building a loyal fanbase, touring with all the fat cats and enlisting some sumo-weight production gurus, they've roared a notable debut cry. Frontwoman Soph Willett's soothing PJ-Harvey-meets-Joan-Jett hymns fall neatly upon the downtuned weight of Dave Day's riffs, and the versatile, yet thunderous rhythms of Gaz Imber (bass) and Jake Mason (drums), affecting tracks with a sense of a journey rather than simple static solidarity. With Greg Chandler and James Plotkin on board to mix and master respectively, this record sounds as huge as Stonehenge crumbling in a storm of electrified hail.
Whilst Alunah know how to doom down, it's also important that they know how to rock hard. 'Living Fast in An Ancient Land', 'Eternal Sea' and 'Dance of Dionysus' owe as much to Nebula or Fu Manchu as they do to Trouble or Saint Vitus, whilst Soph's lazy blues ensures 'Higher' and 'Song of the Sun' come across as the power anthems they were written to be rejoiced as. What I particularly liked while spinning this was the sense of fun and enjoyment I can hear from the band beyond the amps. In a similar vein to Cathedral of Earthride, you get the bass-singed seriousness of distant doomscapes, yet it's never long before a satisfactory lick or mnstrous ride-crash is kicking your ass to Jupiter and beyond. 'Circle of Stone' is a great example of beginning on your back, eyes-closed, silently nodding before finishing in the centre of the room furiously thrusting and rocking your air-crophone. Just in your pants and sunglasses. That could've been just me, though...
There's plenty here for the psychophiles out there too. 'Hermetic Order of the Golden Dawn', and 'Magick Lantyrn' especially, add the mystique and cosmic fog to the steak-cut riffage, with Soph's cave-worthy echo and Gaz's swirling bass distortion taking you beyond the gravestone and into outer space. There's some pretty occulty black-scripture-on-grey artwork, and Mother-Nature-calls-inspired lyrics to get stuck into and all!
Criticisms are extremely few and far between on this grandous opus of a debut, however I admit I did miss the inclusion of live fan-favourite 'Spend My Time' from the earlier 'Fall to Earth' EP, although I see it wouldn't have fit the overall album concept. This is a stonker of a disc from start to finish, and both the polished richness of the groove and the killer song structures ensure your speakers will love taking you along for this ride.