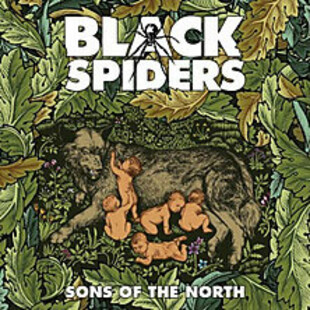 Debut albums can be seen as a statement of intent, an introduction of a band to the world at large. If so, the Black Spiders intentions are clear; they are aiming for big success, not by reinventing the wheel but by taking nods from the established classics of rock music (Led Zep, Lizzy, DC etc) and having a damn good time shaping their own identity from their predecessors' constituent parts. This isn't languishing in any sub genres or ghettos, it's an unashamedly mainstream rock album... and I'm the first to admit I don't often pay attention to bands in that field. That said, this is a very good album.
Sons of the North kicks off in suitably rocktatsic fashion with the up-tempo Stay Down. Built around a riff blatantly swiped from AC/DC's Let There Be Rock, this is a great introduction to the catchiness and energy at the heart of the band, with big punchy production adding to the overall effect.
After that initial thumbs up, the band do rather piss on their chips with the next couple of tunes. KISS Tried To Kill Me, despite its cool title and amusing subject matter, is trying too hard to be a radio-friendly hit and resurrects the old cliche of listing American cities between catchy choruses. The overall impression is of a contrived effort that lacks the balls of their better songs. Similar criticisms apply to the next song Just Like A Woman. To these ears it bears too much of a resemblance to late 80s over-produced hairspray yawnmongers like Def Leppard and Thunder, with the higher register backing vocals on the chorus striking a particularly low spot for the album.
Thankfully things take a turn for the better from here on- Easy Peasy opens with a nice Southern styled riff (Southern meaning Blackfoot, not Eyehategod) and proceeds to swagger in a booze-hazed flirty stomp, trading lines between Pete Spiby and guest vocalist Danni Maibaum.
The album really hits its stride with the heavier salvo of the next few tracks. Despite my momentary disappointment that Blood Of The Kings wasn't a craftily inserted Manowar cover, the good feeling from the opening track returns with a vengeance as the riffs and adrenalin come to the fore. The sound of the central portion of this album is noticeably heavier and pounds along in an effective Soundgarden meets DC style. Pete's vox definitely display a Chris Cornell-esque grit when he lets rip- an impressive element which highlights the shortcomings of the poppier songs by its absence.
Mans Ruin is a particular highlight, featuring quality rock action, nifty lead work and a tasty descending riff towards its end. As with all the remaining tunes on the CD, this benefits from being instantly recognisable and catchy without losing the requisite power and energy to warrant a beer-swilling, devil-horns flashing seal of approval.
Given that the Spiders already have a number of high profile support slots and prominent fans under their collective belt, the breakthrough to widespread success appears to be theirs for the taking. I just hope they veer towards the heavier, more rocking end of their spectrum when it comes to making album two.