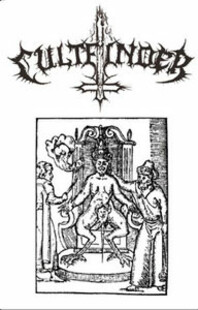 Cassettes! I used to love cassettes! You could record whatever you wanted on cassettes! Nick songs of the radio, record your own jokes about farts, tape a lecture while you slept soundly on the desk... ahh, those were the days!
They sounded pretty crap though didn't they, tapes? Afterall, there aren't many types of music that lend themselves well to this cracked, muffled hiss of a format. Scything, lo-fi black metal, on the other-hand, is definitely one of them and guitarist-frontman Rob Himself has drafted in the rhythm section of London doom supremos Witchsorrow (guitar-player Nick 'Necroskull' Ruskell provides the low end and David 'Wilbers' Wilbraham the battery) to exploit just that.
The resulting four-tracker is an impressive cauldron of vehement aggression - taking the mould of Nifelheim and Darkthrone and slamming it into a furnace of raw evil ala Venom and Bathory. That's not to say that Cultfinder are merely a caricature of all that is black metal – this early display demonstrates an exciting blend of classic filthy BM and hulking funeral doom. 'All Conquering Death' and 'The Devil's Whore' hark back to a desolate garage in November-time outer-Oslo with Rob's rasping growl a commanding and triumphant focal point, reminiscent of Dead or Cronos' blood-spilling roars. 'The Scourging Angel' and 'Witching Curse' further enforce the importance of Necroskull's driving bass, and the outros to both tracks dedicate even more power of the almighty repeating riff to the cause.
It's short and sweet as introductions go, but I am sincerely looking forward to hearing more from this Farnborough-based trio. Based on this furiously dark version of Satan's ipod, I'd say that it won't be long until many more are inverting their crosses in agreement!