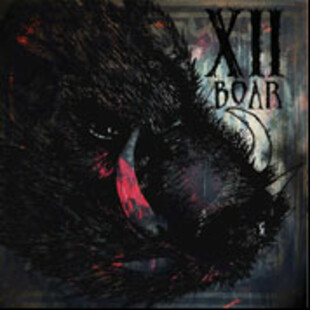 David Wilbraham has limbs of steel. Not only does he play drums in Witchsorrow, Cultfinder and Quatermass Xperiment, he also thumps tubs in sludge trio XII Boar. This competent four-tracker is their debut offering, introducing us in suitably noisy fashion to their Southern-fried rumble. It's a fair old ride too. Opener 'Train Wreck' does exactly what it says on the tin, wrecking trains all over the place with copious dirty riffing and distorted, earnest vocals by the implausibly named Tommy Hardrocks.
Admittedly his cries of 'Goddamn!' don't sit overly well when you learn that the band hail from the bleeding edge of Hampshire, but it's all part of their Down/Crowbar/Clutch-inspired fun. 'Beg, Borrow, Steal' continues the groove-laden catchiness and you can imagine their roughneck anthems going down very well in a live setting, given enough boozy encouragement. The whole CD is drenched in ear-worrying feedback and a weighty production by prolific local knob-smith Adam Pollard.
Definitely focusing on the more rocked up and cheery end of the sludge spectrum than say, Eyehategod, XII Boar could well be ones to watch, blessed with an energy not unlike Orange Goblin in the bad old days of the early Noughties. Goddamn!