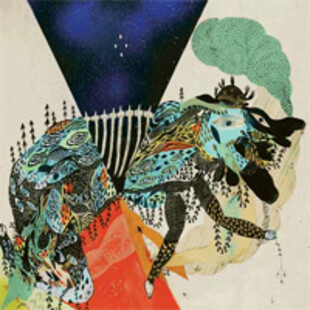 Here's a surprise, a press release that tells you nothing of the music contained with the accompanying disc.
Thankfully the music of Poino, a London 3-piece speaks for itself, a twisting, charming and recognisably English-sounding album in the form of 'Moan Loose'.
If you don't know the fantastic UK bands Lords, Charlottefield, Bilge Pump, Hunting Lodge or any of the hidden wonders that sound like them, then I suggest you investigate, Poino can be placed alongside them easily.
If you found a band like Poino at home you'd probably hear them listening to Captain Beefheart, in between bouts of shoegaze, early 90s indie rock and I'd hazard a guess at drugs.
'Moan Loose' is crackers, from the vocals, which take on a possessed howl one minute and a mumble the next, to the broad strokes the guitar and bass weave, it's an intense journey. The bass in particular seems to lead the sound, proud and just THERE all the way through, whereas the guitarist seems to be squeezing, petting, stamping on, stretching and generally abusing his axe to make sounds it really shouldn't.
Joyous stuff, this will be a regular play on long car journeys as it seems to evaporate time.