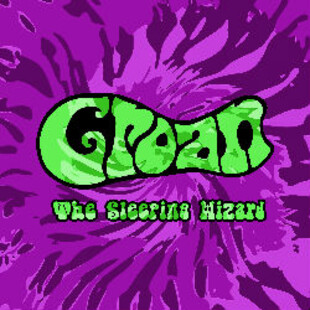 Noun - groan (plural groans)
1. A low, mournful sound uttered in pain or grief.
2. A low, guttural sound uttered in frustration or disapproval.
3. A hard rocking DOOM band from the four corners of the UK, with one of THE albums of 2010.
What started as a one-man project of riffs and beats a few years back that gathered dust on the shelf became reality, when The Riff Wizard, architect of Groan, approached Mazz of Battlewitch/Trebuchet/Ratz Ass with the simple question "Would you like to sing on these songs?". Thankfully for us, he agreed with a simple "YES", and what we have here is the meeting of songs full of riffs, riffs and more riffs, combined with the majestic vocal stylings of Mazz. A match made in heaven (or hell) if you will.
The 7 songs on display here are brimming with pure rock and roll put through the doom filter, not a second is wasted, there's no self-indulgence, it's all killer, no filler. For those wanting a nice pigeonhole, think of the 70s riff worship of Sabbath and Rainbow that The Sword do so well, mixed with Cathedral's rousing moments. All self-recorded, mixed and engineered too, which we must applaud, as what started as a collection of riffs have gathered momentum and become proper songs, released on Doomanoid Records, and it sounds amazing.
I did have another review wrote, but I shall dispsense with the traditional, and lame, track-by-track analysis, and let Mazz loose with his liner notes for each song.
The Ride of the Anti-Christ
This is just a straight ahead song about any invading army that ransacks towns and villages from any war from any period of history. The fear the victims must have felt is unimaginable to lovely me in my comfortable cottage in oh so pretty Bradford-On-Avon. The Anti-Christ title just seemed radical.
Witchy Woman.
I like ladies with big blue eyes and black hair...there is something otherworldy about their beauty, it's the kind of beauty that takes your breath away. It's just about how I find that look very bewitching.
Psychedelic Demons.
This song is just a rant as I guess that I was pissed off that I had to get up and go to work the next day. The vocal silliness towards the later half is again just a rant based on some peoples aspirations that seem very 1980's to my eyes.
Deadly Omens
I wanted to write another song about a Wizard but I thought that I would give a Warlock a chance. The first line of this song is inspired by the 'Fighting Fantasy' book 'The Warlock of Firetop Mountain' I've ALWAYS thought that the idea of a Wizard and/or Warlock sitting in a citadel is so fucking cool..I still do...I don't care if it's wrong. I then just returned to good old..."This world is fucked theme"...but the Warlock would lead us to magical place...I guess I want to go to a magical place...somewhere like Hobbiton would be sweet.
The Martyr King
We are kind of a DOOM band...if you are a DOOM band then you need a song that reeks of the 17 Century. It's about the execution of Charles I. His death at the hands of parliament must have seemed fucking insane at the time. The average man and woman's mind would have been blown. I will write a song about Charles II..This song will be lude.
Sleeping Wizard
I had to write a song about a Wizard. I need to write songs about wizards as much as I need to write songs about Gypsies. This is a simple story of how I and some other people in Wessex believe that somewhere resting in a lovely green forest is a Wizard..this Wizard will come to us when the world needs saving from the MAN...this Wizard sounds like Jesus doesn't he? He's not Jesus though..Jesus would not dig Reverend Bizarre.
Ancient Space (Master Of Time)
Sleeping Wizard is a story based on a Wessex myth...known only to a few. Well Ancient space is pretty similar. This myth is only known to some people of the Town called Bradford-On-Avon. This is a story of a massive god like figure that drinks wine and fucks. When the MAN is getting tooo strong he will come to us...the first we will know about it is when the Stones at Avebury start to Groan.