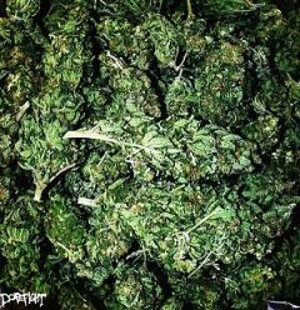 "Dopefight will fuck you up." Chris West, June 2010
This is literally a CD cloaked in images of weed. Rumour has it that the record label only printed a black strip on the front baring the band's myspace link as a last minute ploy to self-promote the band; Dopefight were not happy about the reduced space for weed...
Dopefight are so heavy that they pre-order six ambulances before each gig, all primed for casualty cases of ear and chest trauma.
Dopefight don't write riffs, they sweat monolithic canyons of grooving might from their armpits, mould them with their bare hands and chisel them with sharpened pieces of slate until the three of them are unanimous that it will hurt someone.
Dopefight don't PLAY venues, they SLAY venues.
A key change in a Dopefight track is the sonic equivalent of getting a Glasgow kiss from a rhino.
Chuck Norris listened to Dopefight and was killed instantly.
On the Seventh Day, God was not resting; he was cowering in fear of the filth spewing from Dopefight's bass amp.
Dopefight enjoy partaking in riffing and smashing stuff so much that they forget about vocals until the last 20 seconds of each song.
Carlsberg don't do ferocious sludge metal, but if they did, Dopefight would be better at it.
Why did the chicken cross the road? Because the acoustic lulls in this record physically terrified it over to the other side.
'Buds' is not a suitable birthday gift for your Gran.
...but buy it anyway – it's cheaper than both a defibrillator and a hearing-aid yet does the same job. Violently.