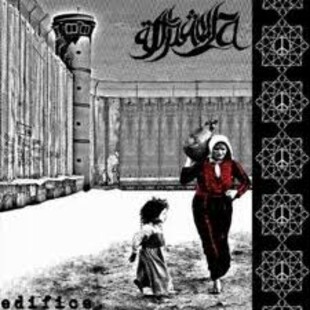 Anybody fortunate enough to catch any of Al-Thawra's (The Revolution in Arabic) shows this side of the pond - they hail from Chicago - will testify that this is a band who know how to do ugly. Fuck, they even managed to fill Queen Elizabeth Hall on London's Southbank with their bad vibes. Melvyn Bragg would have shat his knickers. Musically, A-T use words like crust, experimental and doom to describe themselves and this is pretty bang on. There is a shitty furrow reminiscent of Discharge, Amebix and them other types running through this record. When things slow down there is an almost production line clattering going down, which sounds like drummer, Micah is twatting the living cunt out of a car mangle with a scaffolding pole. Listen to Beneath The Edifice and you get what I mean. He's a hard hitter that one.
This pervading nastiness is tempered by well chosen samples and the use of middle eastern instruments and scales - a nod to singer/guitarist, Marwan's heritage. Politically and socially concious lyrics, sung in English and Arabic are hammered home against this backdrop of brutality. I'm usually a bit dubious about mixing ethnic instrumentation and theory with modern metal. Subtleties of this form of expression can be lost to volume and the need to be heavy and attempts at idle exploitation of a band's provenance is something that I have experienced first hand and grates the shit out of me. However A-T do not just "pull this off" so to speak, but interweave middle eastern music into what they are doing so effectively and (although it seems like the wrong word) tastefully that it seems fresh and un-contrived.
The piss and vinegar of A-T's live shows is conveyed well on this recording with sensitive production (ie - turn everything up, kick the fuck out of it and job done). The vocals sound particularly harsh, like wallpaper stripping harsh. I'm surprised the fella can speak. As a whole, the record flows beautifully with a beautiful sense of dynamics, quieter parts accentuating the explosions.
In all, a blinder. Certainly not for everyone, because "everyone" is usually a bit too much of a pussy to cope with this, but you luvverly 9hz-ers will find this definitely up your street, especially those who like their choons scuzzy and filthy.