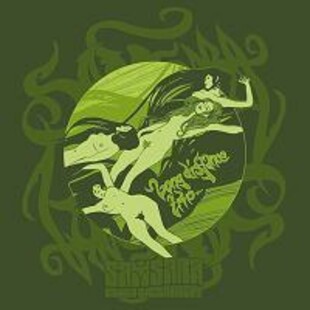 Firstly I'd like to make an apology for the late arrival of this review to ninehertz, I've had this album now for quite a while and I feel I should have been out preaching about it earlier than now!
Some time ago I reviewed SBE's demo for this very website and made a comment on how I was really looking forward to seeing how the band would further expand their sound on a full length. To put it in a nutshell they've expanded it to something quite wonderful.
Slowly unwinding out of the opening track with its rolling bass and drum pattern comes some great wah wah guitar, overflowing with trippy delays, from then on your launched into what is a really nice trip that I promise if your into psych rock and also doom (we'll come back to the doom mention shortly) you'll love.
The band manage to add sitar into the mix without it becoming overbearing, it just sits alongside everything else. The vocals work as an instrument in this record rather than a main focus, there's a slight hint of Stefan from Colour Haze in there for sure though that could be partly to do with the German accent on the part sung, part spoken lyrics. The main bulk of Long Distance Trip is instrumental but this just gives the vocals more impact when they do appear.
So back to this mention of doom, when I say doom here I'm not really talking for example St.Vitus but maybe more of an Acid King psychedelic doom with some elements of Sleep thrown in. The more stoner elements of this band remind me of a great band called Sgt. Sunshine and that's a good thing, if you've not heard that bands first album, go and get a copy now.
The demo gave an idea of what was to come but this album is full of so many great twists and turns that I wasn't expecting, there's even a very nice acoustic track and some adventured in space rock territory.
I'm not going to mention standout tracks here as this album works very well as a whole piece, its like a nice long journey that ebbs and flows in all the right places.
This is epic, heavy, heady stuff and I can't recommend it enough!