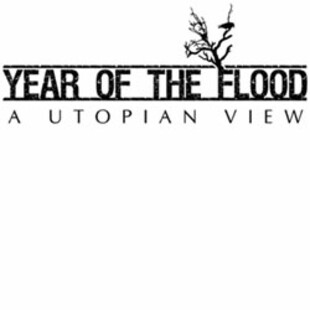 The idea of prophecy is one that comes up alot in metal these days, prediction of a horrible future is nothing new perhaps, but becomes strangely appealing when things are falling apart in the real world.
Nottingham's Year Of The Flood may not be familiar by name, but you'll know the faces if you follow the musical footprints of bands like Jesus of Spazzereth, Bumsnogger and their ilk from the city.
What is surprising here is although it's touted as d-beat, the pomp and majesty of some of the riffs bring to mind the mid-paced ploughing of calmer bands like Cult Of Luna or Neurosis, without ripping either off.
The d-beat is definitely in abundance and the fast parts are suitably raging, think swedish here, rough-sounding and yet delivered with pinpoint accuracy.
This two-track EP has come out (complete with amazing packaging) on new label Witch Hunter Records, run by Chris Kaye (formerly of Bumsnogger and Cape Canaveral) where his aim seems to be to release special, hande-made short runs.
His other band, Below The Fall are a million miles away from this band, so let's hope it stays as eclectic, a fantastic first release.
You can hear this release and the others for free at http://witchhunterrecords.blogspot.com where there is an option for digital download purchase or a hard copy (the latter is fully recommended).