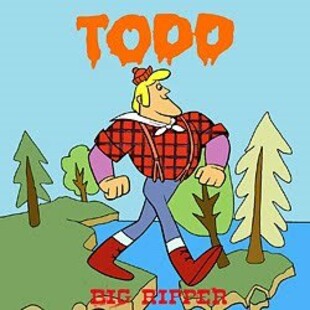 If I'm honest, I'm not nearly nerdy enough to get this. Dear God, I tried, I really did. I stuck it on headphones and sat down to bash out an article and I couldn't. I listened to it really loud and it made my guinea pigs go apeshit, so then I started again, but really quiet this time. Again, I couldn't really get into it. I tried on a medium volume whist soaping my balls in the bath and it wasn't my cup of tea then. I even tried my rather soul destroying brand of robotic, detached lovemaking with Big Ripper by Todd playing in the background, yet I still see myself in the ceiling mirror ploughing away with a dead look in my eye, like I'd been trafficked from my village in the Urals to the decadent, godless west. Selah.
The girlfriend experience costs more, you see.
Perhaps that's the point. Big Ripper does provide a fitting soundtrack to my nihilistic cocksmithery. I reckon it sounds like what happens when you make a drugged badger fight a sackful of rats. I'm getting aroused just writing this. Jesus, I'm so fucking horny. If you like Oneida at their most experimental then this is probably for you. I don't really understand it, personally. It's the burden of generations of punctual incest and graverobbing, I suppose. It sounds like there's probably a bit of Throbbing Gristle and Einsturzende Neubauten circa "Strategien Gegen Architecturen" chucked in to the new Todd mix as well. Friedrich Nietzsche would have a fucking jamboree on this stuff. But then again, he had a jamboree on fucking syphillus.
I remember a time at the beginning of the noughties when I first heard "Good Neighbourhood" by Todd. It was a righteous chunk of down the-fucking-line electro-hillbilly thrash and fucking great it was as well. It seems to me that Todd have ditched this in favour of the intellectual bollocks of musik konkrete, which is probably a progression as natural as crust bands releasing slightly racist neofolk in their later years. I was looking forwards to boogeying my tiny tits to pieces when I got hold of this, but it all seems a bit out of focus, to the point where I think, "You know what, Todd? This is probably terribly good fun live - but what's the point of sticking it on record?" It's like the nights I used to spend lying awake, smoking french cigarettes and drinking rum at university with Atari Teenage Riot's "Live @ Brixton" album on repeat. Makes you look terribly complex, but is ultimately a little pointless. Got me a whole mess of ass though. Obviously, there's folk who can listen to hours of Gunter Moeller, Merzbow, Whitehouse and John Cage who get a kick out of this stuff, but I can't understand why...can you tell me? CAN YOU TELL ME???
Anyway, if you're into all that noisy stuff and directionless jamming, you'll fucking rub yourself dry for this. If, like me, you're too fucking thick to get it - probably worth a swerve.