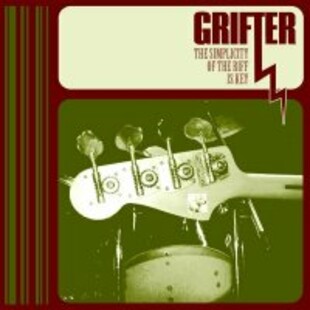 I disagree almost right from the off here. It's just the plain SIMPLICITY that is the key here on this latest outing from the South-West's finest purveyors of dirty old good-time Rawk n' Roll - Grifter. For God's sakes, the front cover is just a photo of a bass-head, the band themselves are the classic "guitars-amps-drums-throat-Guinness" combo and they even incorporate the words "grit" and "riff" (almost!) into their band name!
But yet this simplicity will be beautiful music to the ears of our genre's faithful followers who are sure to lap up every top-string twang, gleeful tub-thump and bass rumbling of this new short-player from one of the most consistent bands around. Once again Ollie, Foz and Phil must take away maximum marks for instilling their very hearts, souls and beers into this disk, and these are surely their defining qualities. It's nothing new, but you'll be smiling like Dick Dastardly with a detonator from start to finish.
'The Voices' is an upbeat riff-driven affair, whilst Ollie's bellowing lyrics hint at an altogether, darker, degraded and contaminated feeling of depression and temptation. 'Blind Rat Storm' picks up the pace and AC/DC-groove, whilst bringing back the optimism in the shape of the open British countryside lyrical theme – the perfect soundtrack to a few jars at a festival in the sun. 'Pendulum' is arguably the centrepiece of the EP – a dirty ode to the suicidal which pitches in somewhere between Clutch and Nebula. 'I Jesus' showcases the best riff of the lot and invites a bit of Motorhead into this 1am house-party whilst the drums stay as steady and hard-hitting as Phil Rudd with a stopwatch.
If there are to be criticisms, (and there will not be many as those dudes are literally bigger than their powerhouse grooves!) then I must concede that there isn't a track amongst the four that grabs you by the seat of your undercrackers more than the others. The consistency is faultless, but there is no immediate hook to drag in a wavering listener in the same way as the band have achieved in the past with such gritty gargoyles as 'Sweat Like Horses'; something I've no doubt these dudes are capable of correcting!
This is solid mini gem of a record that all too firmly brings home that essential message: The Simplicity (of the Riff) IS Key.