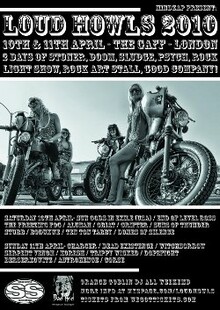 Where: The Gaff, Holloway Road, London.
When: 10th-11th April 2010.
What: Snack-A-Jack Dickinson assembles a snarling, beefy, sweaty, mish-mash-up of live stoner/prog/sludge/doom/psych/rock n' roll for all of London Town to enjoy, along with fine ales, beautifully immature banter and glorious sunshine!
Who:
Pull My Plonker
Jack Attack
Wicked Westicle
Trippy Pierre
Richard The King
James MORRELL Morrell
Bad Admiral
Slack Mammoth
Donald and Jayne-ald
Oliver Grifter
AnTonyo Garcia
Marek Wizard
Jimmy Parker
Sean of Silence
…and about 20 bands
…and about 150 others.
Bands seen:
SATURDAY
Bodokwe – Warm up the early-nerds very nicely with their instrumental Tool-esque sweep on jazz-funk and prog rock with added chunky grooves.
Stubb – The Mark II line-up delivers a fine lesson in well-written rock and roll with hazy, haunting vocals.
Suns of Thunder – The Brighton Boys are here to have fun, and extending the stage into the sweat-pit, that is what they do, whilst bringing their fast-paced Hammond-organ-drenched boogie-a-thons to North London with class.
Domes of Silence – Well drilled, and straight-up riffage, suitably complimented by assured drumming and Sean's gritty, focused vox.
Alunah – Despite a slightly disjointed set, these Brummies sure do have a great bunch of Sabbath-esque songs, with plenty of rumbling low-end and mesmeric high-end female sing-song.
End Of Level Boss – Playing largely experimental new numbers, EOLB demonstrate their classy prog-take on sludge with ease and lap up the crowd's eager attention.
Grifter – Grifter know how to party, which is good as that's what everyone wants by 10pm; balls out riffage, relentless tub-thumping and barnstorming-bass – this is Motorhead having a curry with AC/DC!
Sun Gods In Exile – "I'm a fucking American and I want a beer!" – Grifter's recent tour buddies are determined to enjoy their final UK date and their sweat-drenched Southern Yankie blues bring guffawing and grinning to all in the room.
Outskirts To Infinity – The prog-rock widdlings of these gnarly old boys divides opinion in the room like Marmite; like Yngwie Malmsteen, but with way more pensioners.
EyeHateGod – Obviously not good enough for Loud Howls, they were a no-show and are probably still selling their own gear for weed somewhere in Dagenham.
SUNDAY
Berserkowitz – Pummel both the fresh-faced and hungover few alike with their gargantuan High On Fire-ian drone, topped with scorching Iron Monkey-like bellowing.
Gorse – Easily the politest band of the day and top experimental sludge grooves heartily with slick-Rick drumming and desperate, yearning lyricism.
Serpent Venom – Gather a huge crowd for a total old-school doom demolition, showcasing force, power and heritage in their early-Cathedral riffs and barbed-wire-tinged bellowing.
Dead Existence – A scorching tech-metal approach to sludge with a superb frontman and razor-sharp fret-work.
Witchsorrow – Snail-paced yet heavier than Tony Iommi's pet whale, there is no description to offer here other than DOOM.
Astrohenge – Bat-shit bonkers conkers, multi-genre experts with duel-fuel guitar-attack, 27,648 pedals, doom-organ and probably the best drum work of the weekend.
Dopefight – Tune down and turn up the volume before riffing the crowd senseless for 30minutes – like Saviours drag-racing The Sword.
Koresh – A life-changing experience for pretty much all involved, more out-right male rape than music; scary but happy.
Trippy Wicked and the Cosmic Children of the Knight – Take the audience into the palms of their hands and blast them down a blues-soaked kaleidoscope of epic rock landscapes.
Invasion – You want wizards, thrash metal, 60s soul, stoner grooves, burnt drumkits, blistering volume and sublime 90-second songs – look no further.
Charger – Gnarled, grimey, filthy, downtrodden, gutter-metal from the waste-pits of Manchester – fast, churning, gurning rifforamas of the highest order.
IN SUMMARY – Tired, pissed, riffed and bruised in a pub painted black – what a way to spend a weekend!