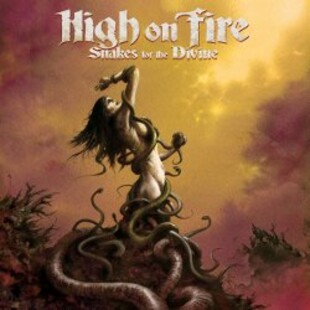 Matt Pike has made no secret of his desire to build a more robust, heavier metallic sound, whilst moving away from the stoner-rock tag that has lingered around High On Fire since their conception from the fractured womb of Sleep.
With this latest outing, the gorgeously en-sleeved 'Snakes for the Divine', the band appear to have accomplished this cross-over to the balls-to-the-wall-metal genre, and with a huge amount of gusto!
The album begins at breakneck pace with the two fastest, yet lengthy, tracks – the title track and leading promo song 'Frost Hammer'. Pike demonstrates his now finely-honed Lemmy-meets-Wino-meets-razorblades vocal growls to accompany terrifically complex riffery which is rapidly approaching proto-thrash speed. Yet there is still the trademark crunch about the guitars and thunderous drumming to accompany the new, cleaner sound dynamics.
The album retires to the more grinding, lurching din in the middle of the order, with 'Bastard Samurai' and 'How Dark We Pray' rumbling away under juddering riffs and huge offbeat cymbal crashes. Overall, the lyrical concept here is very strong, with Pike's lengthy tale of the alternative story to Adam and Eve carefully weaved under the pummelling, but his delivery is perhaps not clean enough (see Mastodon's 'Crack The Skye') for this to have the full impact on the listener.
Ending with the storming mayhem of 'Holy Flames Of The Fire Spitter' and bonus track 'Mystery Of Helm' re-establishes the obvious that this is a fucking heavy metal album with balls, venom and might in abundance. It perhaps won't make too many 'album of the year' polls, but it's certainly another deafening boot-step towards establishing HoF as heavy metal mainstays.