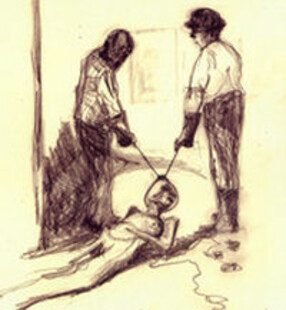 The notes fall out of this band's instruments like drops from a waterfall, sounding like a hyped-up Shellac but placing enough British eccentricity in there to be suitably unique, North London trio Nitowski shake their way through this madcap, constantly moving album with style and ease.
Bringing to mind the much-missed Charlottefield in scope and delivery, there are a hell of alot of tapped notes on offer here amongst pained vocals that sound like they are recorded on antique telephones. With some interesting ambient sections that show a level of inventiveness that take Nitowski far above any Albini copyists, of which there seem to be a million today.
One track that stands out is the percussive 'Scrubbers' which takes a simple drum beat and turns what could have been a run-of-the-mill instrumental into a tribal, dancing beast, excellent stuff.
Apparently constantly on tour, you should try and catch them some time soon, dates with the excellent Shield Your Eyes and Silent Front are up on their myspace to peruse, catch them while you can!