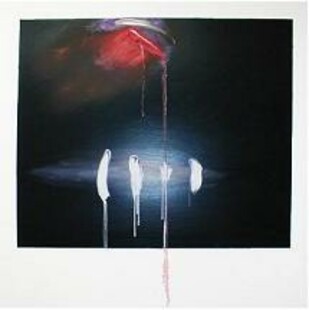 Knowing this band as well as I do, it's a tough job to review them fairly, but this particular set of songs make it all the more easier.
For those who don't know, TW are a trio from Lincoln who play a unique melding together of post rock and post metal, although neither of those terms does their music any credit. Heavy use of delay means frontman Dean's guitar creates a pallete that bassist Tev and drummer Dave can paint over with ease and it's a sad, affecting kind of calm that shines through ultimately.
This being their cleverly titled second release benefits from a lot of gigging and some incredible production. Song titles rarely have much to do with content as far as I'm aware, but are all the better for it.
Opener 'Christadelphia' moves from ocean-like calm to uplifting and honey-sweet euphoria within a breath and back again. Influences worn on their collective sleeves would appear to be This Will Destroy You and their ilk, Pelican or Isis.
So occasional are the vocals that when they appear, they come across as profound and utterly captivating in the drunken and slurred way only Dean can deliver them. They first appear in 'Afghan' a personal favourite that springs into life with one hell of a stilted drum fill and finishes its all-too-brief tenure with Dean on fine form sounding for all the world like Neil Fallon given too much jalapeno with his Nando's. That isn't to take away from the nature of the lyrics, which focus on the armed forces working overseas.
The release ends with the frenetic workout that is 'Stitches' which bounds along with a fierce temperament and a is-it-or-isn't-it ending that will have you dumbstruck.
Bound to be playing somewhere near you soon, TW are a fresh and unique proposition that need to be admired.