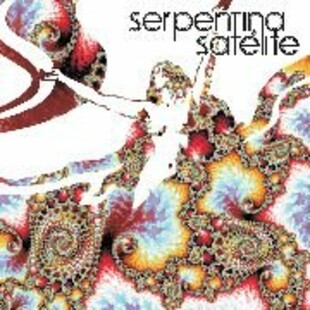 Hailing from Lima, the coastal capital of Peru, five-piece Serpentina Satelite's debut EP has travelled well to find it's way into my living room via german psych rock label Trip In Time. The band comprises of Felix Dextre on bass, Dolmo and Renato Gomez on lead and rhythm guitars, Aldo Castillejos on drums and Flavio Castillejos providing an accompaniment of poetic whispers.
Slowly pulsating guitar notes set the tone and gradually build up an atmosphere of understated groove, whilst ghostly spanish whispers latch on to a lazy wandering bass-line. An unfaltering repetitive bass drum creates the rhythm almost unnoticed in the background whilst toms roll freely in hypnotic patterns which traverse the stereo field. The nine minute span of Nueva Ola song seems to pass quietly in the background as it weaves through unfocussed patterns to create an understated psychedelic sound-scape. As the song progresses the rhythm section find unity in blues driven intersections whilst guitars constantly generate free-flowing delay ridden snippets which complement each other perfectly.
The title-track, Nothing To Say, brings the first taster of a riff, a rotating garage rock section which is as much The Stooges as it is Natas. Here underneath blurry layers of phased and delayed guitars a song takes shape which repeats its way into a psyched out mantra befitting that of a wandering Peruvian goatherd indulging in the first mushroom harvest of the season. The pace rises and falls as the bass-line carries on it's nomadic dance between notes and drummer Aldo Castillejos beats his way around the toms with every bar played.
The following tracks; The Last Drop and Madripoor continue at slow pace, wailing guitars travel alongside spoken word on a journey through mellow psychedelia, a train upon which i couldn't help but find myself drifting off into fanciful thoughts as it trundled on from one remarkably similar landscape to the next. The fifth and final track Kommune 1 is a 23 minute jam broken up into two parts, it's in the latter that Serpentina really find their groove as they merge snailpace repetition into a fast cosmic journey where effects gather like rainclouds to coat the landscape in an array of fantastic textures.
The more i listen to 'Nothing to Say' the more i become embroiled in the lazy jams to be found within, although they can sound bland in comparison to Serpentina's seasoned musical counterparts; Pharaoh Overlord, Earthless and White Hills in particular. Amongst the dreamy guitars and rolling toms there are some sublime sections, but for me it lacks the dynamics to take their craft to the next level. In saying that i wouldn't miss the band live and look forward to hearing more from these trippy Peruvians.