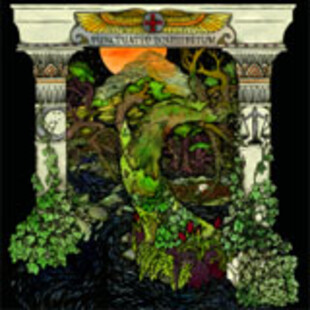 Now Scott "Wino" Weinrich is a fucking legend, of that there can be no argument. In nearly 30 years his involvement in heavy music has produced some of the finest and arguably most groundbreaking albums. Saint Vitus were largely responsible for taking the darker sounds of Sabbath and twisting them through a moribund blender to provide the template for doom metal as we know it today. Subsequent projects such as the reborn Obsessed, Spirit Caravan and The Hidden Hand have all had the unmistakable Wino stamp of quality... dark and quirky yet soulful and always heavier than a lead nutsack!!! In all his projects, although undoubtedly the main focus, Wino has always shared the limelight and the music with his band mates but it would seem after one too many letdowns he has decided to go it alone with this, his first solo release.
Despite being a solo album, and therefore, presumably Wino would have had the freedom to pick and choose musicians from a wide pool, Wino has played it simple and assembled a three piece band of hand picked musicians; the late Jon Blank from Rezin and Clutch's trapper keeper and possibly the finest keeper of groove since James Brown discovered the funk, JP Gaster. So, given his new found freedom does Wino plunder the furthest reaches of his imagination to create new sounds and styles? Does he dabble in funk? Does he embrace techno? Does he sidle up to pop with a glint in his eye? Well... no. Wino knows what he does and he knows what is expected of him and delivers an album that could fit comfortably anywhere in his back catalogue with the exception of the Saint Vitus years. Wino's style is so ingrained in his psyche that I suppose it's inevitable that a Wino solo album will sound pretty much like everything else he's done in recent years. That's not to say that this album is unimaginative or crap. Far from it, this is a very fine release and brimming with an energy that may have lacked from some of his most recent output. Gaster certainly kicks Wino's compositions into another dimension and adds that all important layer of syncopation that Wino's avant doom jazz leanings have so desperately needed.
Opening track 'Release Me' and 'Smilin' Road' flirt with the blues in a way that Wino has never managed before, albeit with his trademark soulful croon and his fuzzed up guitar assault. 'Punctuated Equilibrium' draws on his DC hardcore roots with a fine punky blast that allows Gaster to rock out in a way that Clutch rarely does. 'The Woman In The Orange Pants' and 'Wild Blue Yonder' are jamming instrumentals that give all three musicians the chance to flex their chops, although Wino does take centre stage to display to all and sundry why he is one of the most inventive yet underrated guitarists to emerge in metal in the last 30 years. On 'Eyes Of The Flesh' and 'Secret Realm Devotion' the listener is given that all important dose of doom, though with Wino's all important twist. The latter song actually sees Gaster nailing a straight 4/4 rock beat, who'd have thought we'd ever see that happening in our lifetime? 'Water Crane' is a brief instrumental that builds on a droning base note over laid with a meandering Middle Eastern melody. 'Gods, Frauds, Neo-Cons and Demagogues' (try saying that pissed!!!) presumably continues Wino's fascination with uncovering the darker, hidden sides of politics and religion and proves to be another foray into doom territory and is probably closest to his work with Vitus if it weren't for the samples that gnaw incessantly through the track. Closing track 'Silver Lining' is anything but!!! Another big boned trademark Wino riff pounds through that allows Gaster to kick the usual groove we would expect from him.
As an album 'Punctuated Equilibrium' sits right alongside anything from the Spirit Caravan and Hidden Hand years in terms of quality and, if anything shows just how strong a commanding influence he was in both bands... as if we didn't know that. It may not offer any of the surprises that we may have expected but for fans of Wino this is another in a long line of quality albums that will see him retain his exalted position at the pinnacle of the doom firmament and I, for one, am chuffed to see him still up there.