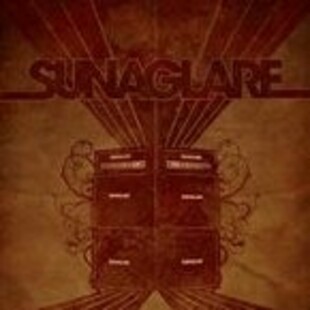 Sunaglare are a five piece rock band from Sweden who began as a grunge cover band and have now developed into a fully-fledged original outfit with the release of their self-titled debut EP on Poison Tree Records.
A lone guitar starts the ball rolling before the drums kick in alongside a wah laden guitar and we're off in a cloud of Fu Manchu-esque fuzz. The vocals fit nicely into the mix, telling a familiar tale of having to leave at just the wrong moment. 'Hollywood Break-up' starts with cowbell and forms a catchy garage rock song, which strangely has me thinking of the Donnas, though it probably sounds a lot more like fellow Swedes The Hellacopters. Not too sure of lyrics such as 'Never do they fail, unless they rust and must be replaced.' but all in all it's good up-tempo stuff.
The garage influence remains evident through the guitar driven 'Good Intentions?' and 'Troy' which blasts in with a brilliant riff. Closing track 'Save Yourself' is the highlight of the record, sounding like Superunknown era Soundgarden. The track's subject touches on the melancholy and thus exhibits a level of drive and passion lacking from the rest of the record.
Overall a good debut effort but it lacks the grit and honesty of their grunge-era influences and the garage rock on show here is very far removed from the drug induced recollections of Staley and co. Although if it's up-beat, guitar driven rock music you're after then Sunaglare are definitely worth a listen.