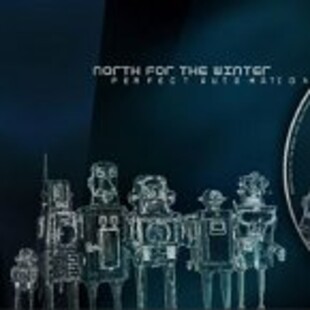 Incredibly, despite playing maybe ten or twenty gigs in their 5 year + existence, Hampshire post-hardcore types North For The Winter have released FOUR (count 'em) full-length albums. What they lack in live experience (with the exception of bassist Andy, formerly of Mfkzt and largely studio-bound stoners Cicadas), they make up for in prolific songwriting and you have to admire their tenacity.
'Perfect Automation' is an 11-track slice of succinct, melodic indie, displaying all their tricks in one handy, highly listenable package.
Benefiting from the recent addition of a teenaged, female vocalist, the songs are well layered and dynamic - album highlight 'She Self Medicates' is built nicely round an bizarrely Cranberries-esque vocal line. Sharing singing duties with guitarist Chris, the two-part harmonies tend to waver at times, but the solid, busy drumming and sturdy basswork keep things moving.
Four albums in (it makes less sense the more you say it), the band bare their influences a little too much given their longevity, with Biffy Clyro being the most obvious and prominent. That said, the likes of 'You're Ruin' call to mind parts of the Deep Elm roster and elsewhere there's an honesty to Chris' songwriting that outshines any lack of originality. There's no pretension or desperate image maintenance here.
'Perfect Automation' is the sound of a band struggling against a tide of apathy, but if honestly tuneful, ambitious indie-rock is your bag, you'll be rooting for them on first listen.
The album is available to download for free at www.northforthewinter.com